Simon Birch
(1998)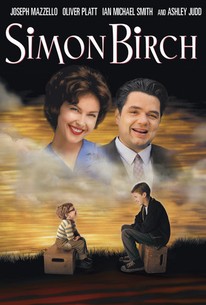 Movie Info
From the day he was born, Simon Birch (Ian Smith) was different. He was no bigger than a baby bird, and the doctors predicted that he'd never last the night. But he did. Then they said he'd never last the week. But he did. Weeks turned into months and months into years, until Simon grew into a boy with an unwavering belief that God had a special plan for him -- that He had made him that small for a reason. Simon's only friend, Joe (Joe Mazello), is on a quest of his own. His young and beautiful mother, Rebecca (Ashley Judd), has kept the identity of his father a secret. With dreams of finding his real father one day, Joe is less than thrilled with Ben (Oliver Platt), the new man in his mother's life. But things take a sudden and tragic turn when Simon, in a Little League baseball game, hits a foul ball that strikes and kills Rebecca, sending her to her grave along with her secret. Simon's destiny and Joe's quest for his father become intertwined in the end, when Simon becomes the hero he was destined to be and in the process helps Joe solve the mystery of his father.
Critic Reviews for Simon Birch
Audience Reviews for Simon Birch
Simon Birch, is a comedy-drama that tries with intensity move the audience and captivate the heart, but the sentimentalist spoiler the entire movie. Despite have good intentions, Simon Birch becomes boring and awfully emotional. Rotten.
Lucas Martins
Super Reviewer
With good intentions and well meaning written all over it, this one is like a bowl of corn flakes, a little soggy. "Boyhood chums face some of life's challenges" might be a kind way to describe it, and though it has it's moments ultimately it sinks under the weight of it's own corn.
Kevin M. Williams
Super Reviewer
A very boring and unspired film. This is suposed to be emotionally charged, hell this is just a stupid boring film with no direction. The midget in this film is annoying and ugly as fuck, and the storyline and is beyond terrible, sappy and stupid. Theres some terrific actors in this film, which are wasted on this sorry excuse of a film. I've never seen something so boring, and hokey. I can think of a lot of better family films than this one. This is the worst family film ever. Pass on this one.
Simon Birch Quotes
| | |
| --- | --- |
| Adult Joe Wenteworth: | You're never prepared for the moments that change your life. |
| | |
| --- | --- |
| Adult Joe Wenteworth: | Time is a monster that cannot be reasoned with. I responds like a snail to our impatience, Then it races like a gazelle when you can't catch your breath. |
| | |
| --- | --- |
| Simon Birch: | There are no accidents. God has a plan for all of us. |
| Joe Wenteworth: | There is no plan. Don't you understand? |
| Simon Birch: | But God... |
| Joe Wenteworth: | There is no God. He's like Santa Claus or the Easter Bunny. It's all bullshit, Simon. |
| | |
| --- | --- |
| Joe Wenteworth: | God sent me a screwball with an armadillo? |