Simply Irresistible
(1999)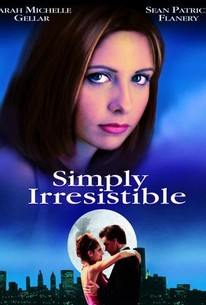 Movie Info
Sean Patrick Flanery plays Tom, the manager of a department store in Manhattan. He may or may not be falling in love against his will with heiress Amanda Shelton (Sarah Michelle Gellar). Tom resists Amanda, who has just inherited a restaurant, because he believes she might have magical powers. Mark Tarlov makes his directorial debut after producing such films as Copycat and The Man Who Knew Too Little.
Critic Reviews for Simply Irresistible
Audience Reviews for Simply Irresistible
½
I do not like the concept of this movie. Amanda is failing to make a go of her mom's restaurant after her mom passes away. Then along comes a magic crab who makes Amanda's cooking outstanding, rescues her love life and generally improves her life. We should all be so lucky to have a magic crab appear.
I know it's not a *good* movie, but it's sweet, and I have watched it many times over the years. Sarah Michelle plays Amanda, a young woman trying to hold on to the restaurant her dead mother left her and failing. There is a bit of silliness with a spirit and a crab, and then she meets a man and with the help of some "magic" and good food, they fall in love. Sarah Michelle is charming and there's a good supporting role from Patricia Clarkson. The love interest is a bit bland, but the sou chef friend is hilarious. Just a nice little movie.
Nicki Marie
Super Reviewer
Bannan instant enigma- just add water
Super Reviewer
Simply Irresistible Quotes
There are no approved quotes yet for this movie.