Sin City
(2005)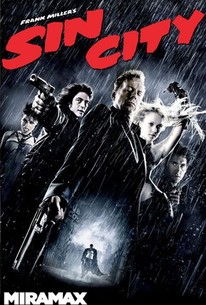 TOMATOMETER
AUDIENCE SCORE
Critic Consensus: Visually groundbreaking and terrifically violent, Sin City brings the dark world of Frank Miller's graphic novel to vivid life.
Movie Info
The Eisner Award-winning comic series Sin City comes to life in this live-action feature adaptation from director Robert Rodriguez and creator Frank Miller. Interweaving multiple storylines from the series' history, this violent crime noir paints the picture of the ultimate town without pity through the eyes of its roughest characters. There's the street thug Marv (Mickey Rourke), whose desperate quest to find the killer of a prostitute named Goldie (Jaime King) will lead him to the foulest edges of town. Inhabiting many of those areas is Dwight (Clive Owen), a photographer in league with the sordid ladies of Sin City, headed by Gail (Rosario Dawson), who opens up a mess of trouble after tangling with a corrupt cop by the name of Jackie Boy (Benicio Del Toro). Finally, there's Hartigan (Bruce Willis), an ex-cop with a heart problem who's hell-bent on protecting a stripper named Nancy (Jessica Alba). Featuring a who's who supporting cast that includes Elijah Wood, Brittany Murphy, Devon Aoki, and Nick Stahl, Sin City promises to be one of the most direct translations from page to screen of a comic series, with shots and dialogue adapted straight from the original comic's panels. Rodriguez quit the Director's Guild when they refused to let Frank Miller co-direct the film, a deal hashed out after the two collaborators developed and shot the opening scene utilizing a green-screen process to harness the stark, black-and-white look of the books as a litmus test for the rest of the production. Quentin Tarantino was brought in and reportedly paid one dollar to direct an extended scene between Del Toro and Owen that amounts to one issue of The Big Fat Kill miniseries. ~ Jeremy Wheeler, Rovi
Critic Reviews for Sin City
Audience Reviews for Sin City
½
Very slick stylish film, great visuals. Kind of Pulp fiction meets comic book.
½
Sin City is a gorgeous and cartoonishly violent mix of old school film noir style and new school digital technology. Robert Rodriguez has brought Frank Miller's graphic novel to life on the screen almost panel to panel. The results are fascinating. Each story has dark, brooding, yet interesting protagonists. Their villains are equally menacing. The all star cast is clearly having fun getting in touch with their inner Humphrey Bogart. Fully embracing its pulp roots, Sin City depicts reluctant anti-heroes trying to exist in a city overwhelmed with corruption and despair. It's the ultimate in hard boiled fiction.
Edward Boxler
Super Reviewer
Most adaptations of graphic novels are style over substance but this is a great balance of both, making for a very entertaining film-noir style. "Sin City" is like a series of short films strung together to create a compelling story, and in this case, it could not have been done any better. Being released in 2005, this way of filmmaking was pretty groundbreaking and I admire Robert Rodriguez for going to new heights. With some awesome action scenes, some beautiful cinematography, great green screen work, and multiple interesting stories, "Sin City" is one of my favourite adaptations of a graphic novel. Mickey Rourke is the most notable in his role as Marv, making for one badass guy who drives most of this film to be as strong as it is. Sure, there are some pretty dumb moments and the narration can become a little distracting and tedious, but you just can't deny, this is a great movie!
Sin City Quotes
| | |
| --- | --- |
| Marv: | I love hitmen. No matter what you do to them, you don't feel bad. |
| | |
| --- | --- |
| Hartigan: | An old man dies, a young woman lives. Fair trade. |
| | |
| --- | --- |
| Hartigan: | [after pounding Roark Jr.'s head to mush] So long, Junior. Been a pleasure. |
| Hartigan: | So long, Junior. Been a pleasure. |
| | |
| --- | --- |
| Marv: | [Narrating] I've been having so much fun I forgot to take my medicine. |
| Marv: | I've been having so much fun, I forgot to take my medicine. |