Sin Takes a Holiday
(1930)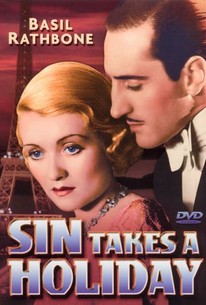 AUDIENCE SCORE
Critic Consensus: No consensus yet.
Sin Takes a Holiday Photos
Movie Info
Ahead of its time for liberated thinking, this is still really just a classic romance with a love triangle thrown in on the side. While on a trip to Paris, a woman meets a man that makes her reconsider her marriage of convenience (she had married her boss to save him from his girlfriend!).
Critic Reviews for Sin Takes a Holiday
Audience Reviews for Sin Takes a Holiday
Constance Bennett as a blasé, plain Jane, everyday working girl (with dreams of the good life, natch) who's rich boss marries her to protect himself from, err, money harpies. Is there a Cinderella story far off, hmmm? In the meantime, Basil Rathbone practically steals the movie as the boss' bestie who decides to go slumming and get that glass slipper girl for himself. And everyone is surprised when ol'Constance cleans up pretty damn good. It's okay.
Kevin M. Williams
Super Reviewer
This bit of fluff has such a silly premise. A man (Kenneth MacKenna) marries his secretary (Constance Bennett) in order to make himself unavailable to a woman he's been seeing (Rita La Roy), who is getting a divorce and has her eyes on getting him down the aisle. The marriage is a sham, he'll pay her for $5000 for a single year, and allow her to travel and live wherever she'd like, because he has no real interest in her. Delicately, they make it clear there will be no physical relations. She's saddened by the whole thing, but she has no other offers and so reluctantly agrees. She then sets off for Europe. Naturally, many of the men over there (including one played by Basil Rathbone) find her more than a 'plain Jane' and pursue her. Jealousy in two love triangles ensues when she returns to New York to talk to her 'husband', with both La Roy and Rathbone's characters present. Constance Bennett is reasonably good in the leading role. Her attitude is almost too morose at the outset, but she stands up for herself to all of the other characters. One theme seems to be that attraction increases the more unattainable someone is, which is an interesting premise. However, the film feels amateurish in its direction and in its script. It's uninteresting and flat for too many stretches despite is brief 81 minute run time. The ending is also horribly predictable, and worse, unlike other romantic comedies where we know what's coming but are all rooting for it, here we really don't want it to end this way. Lastly, the title 'Sin Takes a Holiday' is a ridiculously sensationalistic attempt to sell tickets, and while the film is pre-Code, it's quite tame.
Antonius Block
Super Reviewer
Sin Takes a Holiday Quotes
There are no approved quotes yet for this movie.