Sinbad: Legend of the Seven Seas
(2003)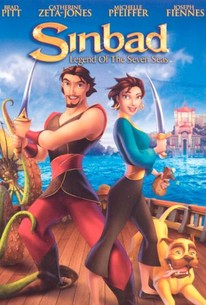 Sinbad: Legend of the Seven Seas Videos
Sinbad: Legend of the Seven Seas Photos
Movie Info
The legendary rogue of the seven seas confronts a new assortment of dangers and thrills in this animated action-adventure tale. Sinbad (voice of Brad Pitt) and his crews of pirate adventurers are hoping to retire to Fiji, and they discover a treasure that could make that possible -- the Book of Peace, which has kept the Twelve Cities in harmony for centuries. But Sinbad's plan to snatch the magic book is complicated when he learns it's on board a ship captained by his longtime friend Proteus (voice of Joseph Fiennes). While Sinbad still has his eye on the book, so does the mischievous goddess Eris (voice of Michelle Pfeifer), who sends a deadly sea monster into Sinbad's path to scuttle his plans. With the help of Proteus, Sinbad prevails over the beast, and determined Eris responds by snatching the book and framing Sinbad for the crime. Noble Proteus offers to step in for Sinbad and take his punishment, so now the adventurer has ten days to rescue the book from Eris or Proteus will pay with his life. While Sinbad is at first uncertain if he should take on such a dangerous assignment or simply high-tail it to Fiji, someone is on hand to persuade him -- Marina (voice of Catherine Zeta-Jones), Proteus' lovely but hard-headed fiancée, who has stowed away on Sinbad's ship. Sinbad: Legend of the Seven Seas was the first animated feature written by John Logan, who received an Oscar nomination for his script for Gladiator.
News & Interviews for Sinbad: Legend of the Seven Seas
Critic Reviews for Sinbad: Legend of the Seven Seas
Audience Reviews for Sinbad: Legend of the Seven Seas
½
Haha RT, really? 46%? I love it when critics just get things wrong. Sinbad is one of the few animated movies out there to approach the genre with a morally open story/protagonist and a sophisticated, convincing romance. The film's obviously targeted at young adults, teens unwilling to put up with the patronization of Disney films but still yearn for a beautifully animated and competent fantasy journey. The biggest folly is the completely one dimensional storytelling, I wish Proteus's point of view played a larger role in the grand scheme of things as Sinbad's journey just seems redundant after the first couple of action sequences. Also, just watch Eris move, she's meant to be animated.
Drake Tsui
Super Reviewer
½
One of my favourite animations, much funner than the last two POTC movies.
Alexander Wilson
Super Reviewer
½
i enjoyed this movie very much. it took alot of flack, but i didnt see why. it was entertaining and creative, the characters were about as engaging as one would expect from an animated film. fun to watch.
Sinbad: Legend of the Seven Seas Quotes
| | |
| --- | --- |
| Sinbad: | Think of the beaches. |
| Kale: | Oh, beautiful, if you like mosquitoes. |
| Sinbad: | Think of the sun. |
| Kale: | It's monsoon season. |
| Sinbad: | Ah, and the women. |
| Kale: | They're cannibals, Sinbad. |
| Sinbad: | Exactly. |