Sing
(2016)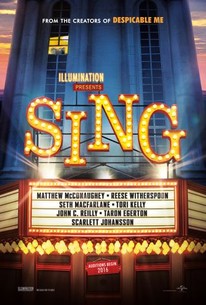 TOMATOMETER
AUDIENCE SCORE
Critic Consensus: Sing delivers colorfully animated, cheerfully undemanding entertainment with a solid voice cast and a warm-hearted -- albeit familiar -- storyline that lives up to its title.
Movie Info
A koala impresario stages a grand singing competition for the world's animals in order to save his elegant theater in this quirky animated musical.
Audience Reviews for Sing
Been almost three days since my last review. Movie I watched on Thursday was The Number 23, which I've already seen and don't feel like re-reviewing it for Letterboxd. On Friday I started watching a sci-fi film called Taking Earth. But it was so bad, with awful acting, that I shut it off and watched the first four episodes of Wet Hot American Summer: Ten Years Later instead. Moving on. I'd like to go back to something I said in my review of Trolls almost two months ago. I remember writing in that review that we haven't really gotten a real masterpiece of American animation since The Lego Movie. I'd like to fix that statement and say that I forgot last year's incredible Kubo and The Two Strings. That was definitely one of the best animated movies I've seen in quite a while, at least from an American studio. But I digress, let's move on to this film shall we? I've given Illumination Entertainment a lot of shit over their asinine creation, the merchandising bonanza that are the Minions and how insufferable they are. I hate the Minions and I've hated them since the first Despicable Me. I've also given them shit for the fact that, in the ten years they've been around (company was created in 2007 and their first movie, the aforementioned Despicable Me, came out in 2010), they haven't produced one good movie. Well, I mean, that's really subjective. What's good to me might be terrible to someone else and vice versa. I guess what I should really say is that I haven't enjoyed a single one of their films. Despicable Me, as a franchise, is totally overrated, the Minions are the stars of that film. Name important DM character that isn't Gru? Without using Google naturally. You can't, right? That's because DM is a franchise that exists to sell more Minions merchandise. The story is irrelevant. They could make the worst movie known to man and it'd still rake in hundreds of millions dollars of merchandise sales from the Minions. I hated the Minions movie with a passion. In short, I really do think that Illumination Entertainment has been the worst American animated movie studio. Even Blue Sky Studios has The Peanuts Movie and Horton Hears a Who. Sony Animation has Cloudy With a Chance of Meatballs. Illumination doesn't have a great movie under their belt yet. Not a single one. Having said all of that, and going back to my original point, I haven't enjoyed a single Illumination Entertainment movie yet. That is until this point in time. Yes, believe it or fucking not, after SEVEN LONG YEARS, I can finally say that this studio has produced a movie that, in the long run, I'd say that I enjoyed. Of course I could say, and I will, that they still haven't made a great movie. And the fact that their best movie is just good, at best. But I'll take the positives where I can take them. I will say, however, that the film sort of suffers in comparison to Zootopia. They couldn't be different from one another thematically speaking. While there was no murder, Zootopia felt more like a murder-mystery with its focus on detective work. What I mean by that is the whole presenting the characters as if they were human. They have jobs, cities, the suburbs, etc. I don't know if that makes sense, but it does to me. I think coming out so, relatively, shortly after Zootopia might have hurt this movie in the eyes of some who would look at its characters and just assume that it was more of the same, even though two completely different studios made it. I will say, though, that the story bares similarities to stories that the Muppets have done in the past, where they have to put on a big performance to save a theater they refurbished. This movie is similar in that this singing competition is meant to establish the career of Buster Moon, a koala bear, who owns his own theater that's fallen on hard times economically. This competition is his last shot at making a success and not letting his father, who helped him buy the theater and has passed away, down. Eventually it comes to pass that the theater ends up being completely destroyed. These are the 'down' moments of the film, where the characters part ways before coming together in the end and putting on their show, for their own enjoyment, and setting aside the competition. Honestly, I don't know what it was about this movie, but I had fun watching it. I think focusing on several characters, each with their own little backstories, like Johnny has his deal with his gangster father and his desire to not live that life and wanting to be a singer, Rosita feels unappreciated by her husband and children, Mike owes money to some literal Russian bears, Meena dealing with her stage fright and Ash dealing with a boyfriend, whom she has a band with, who holds her talent down. And that's not to mention Buster and trying to put this show together. I think this approach allows them to jump from character to character without really spending too much time with any one of them. The movie does just enough with the characters to where, at the very least, you can see that some effort was made. I'm not saying that a Pixar or Laika-esque effort was made with the characters, but I think they realized that they couldn't rely on the bullshit from the Minions, so they had to construct a film with legitimately likable characters. And that's what they did here. The tone of the film certainly helped, it's light and breezy. The film is longer than I would have expected, but it never feels long at all. This is where focusing on a, relatively, decent-sized cast of characters does. You can move back and forth between them whenever you feel that a particular scene is getting too long. I do think that the climactic performances are also enjoyable, I do think they're a proper way to climax all of the disparate stories that the film has weaved. The animation is certainly solid, Illumination aren't Pixar-level artists, but the film is certainly colorful enough to distract the kids and clever enough to slightly entertain the adults. That's not to say that the film is super clever or witty, but it is entertaining for adults to watch. And that's not something I would have ever said about this studio's previous films. I don't really know what else to say, I'm kinda speechless here. I never thought I'd be alive to see the day that Illumination Entertainment actually made a movie I actually enjoyed. Now that this day is here, however, I don't know what to do. How do I move on now? Sarcasm I side, as I said, I liked this movie and it's available on Netflix if you have 100 minutes to kill. Solid stuff right here.
Jesse Ortega
Super Reviewer
½
"Sing, sing a song / Sing out loud / Sing out strong..." sang Karen Carpenter in a 1973 hit song penned by Joe Raposo. Oddly enough, that similarly titled ditty is NOT included in Sing. This jukebox musical contains over 85 tunes ranging from 1940s standards by Frank Sinatra to current pop singles. These are heard throughout both in the background of scenes or sung in competition by the contestants. The compositions work and many actually feel as though they were written for the drama. Katy Perry's "Firework" as sung by Rosita (Witherspoon), and Elton John's "I'm Still Standing" sung by Johnny (Egerton) as his climatic number at the end, are galvanizing pop hits that pluck your heartstrings. Johnny's incarcerated father discovers his son's vocal talent from the TV in his jail cell. I can't explain why I got choked up, but I did gosh-darn it! There's a lot here that feels familiar. I mean did we really need yet another version of Leonard Cohen's "Hallelujah"? Please retire that ballad immediately. Nevertheless, I freely admit that it's beautifully sung here by Tori Kelly. 2016 has been a stellar year for animated films. The bar has been raised incredibly high. Sing doesn't reach the heights of the year's very best (Zootopia), but I still left the cinema with a smile. fastfilmreviews.com
Mark Hobin
Super Reviewer
Inoffensive little charmer that fails to fully engage sympathy but is not terrible either. I was impressed with how the usual racial undertones given these animation ventures were entirely avoided, providing an even staging.
Kevin M. Williams
Super Reviewer
Sing Quotes
There are no approved quotes yet for this movie.