The Singing Detective
(2003)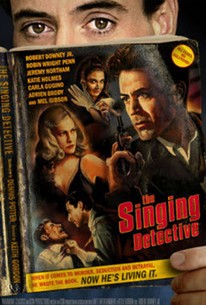 TOMATOMETER
AUDIENCE SCORE
Critic Consensus: Delightful performance from Robert Downey Jr. can't save The Singing Detective's transition from TV to the big screen.
The Singing Detective Photos
Movie Info
Dan Dark gives new meaning to the term "scars of childhood." A hack writer of detective stories, he has suffered from psoriatic arthropathy, a crippling disease of the skin and bones, from the time he was eight-years-old. His latest and worst outbreak has landed him in the hospital where he deliriously tries to figure out who he is and how he got to this terrible place in his life. His fevered mind mingles real people with his fictional characters, and his past with his present. As his condition grows more desperate, he is dispatched to the charge of the eccentric psychiatrist Dr. Gibbons. Initially reluctant to confront his tortured past, Dark is gradually lured out from the "cave in the rocks" under which his spirit has crawled. Dark is visited in the hospital by his ex-wife, whom he fears his sleeping with a character from his past and conspiring to steal the screenplay he wrote years ago of his first novel, The Singing Detective. But nothing is exactly what it appears here. In his hallucinatory state, Dark re-imagines the plot of his novel, casting himself in the starring role of a gumshoe who doubles as a singer in a dance band.
Critic Reviews for The Singing Detective
Audience Reviews for The Singing Detective
½
A great performance by Robert Downey Jr., an early Katie Holmes role and a small part played by a heavily made-up Mel Gibson do their best, but they don't save this film from its sheer weirdness. Four words: lip-synched ensemble musical numbers. When it cut to action from the novel our hero (Downey Jr.) has written, I really liked the visual style, and overall, the story told in flashbacks is well-done, near-perfect noir, in fact; when it steps outside the frame, however, and tells the present day story - with the characters from the books interfering in some strange meta-fictional way - it loses its momentum, getting downright hammy in places. And then, there are the musical numbers... An ambitious film, but I'm not sure I mean it as a compliment; Joe Baltake probably said it best when he called this one an "interesting failure." Check it out, if for no other reason than this: it's different than most everything else you're watching.
Daniel Perry
Super Reviewer
½
This could have been amazing, but it fell short of an interesting story. The cast was good, but didn't really get to show off their talent due to the script. Mel Gibson's psychotherapist character was by far the best part. If it would've just been an actual noir homage then it would've been great.
Conner Rainwater
Super Reviewer
Leigh Ryan
Super Reviewer
The Singing Detective Quotes
There are no approved quotes yet for this movie.