Sins of the Father
(2002)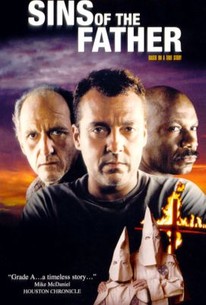 Movie Info
Based on a true story, the made-for-TV Sins of the Father mostly takes place in the year 2000, though the story really begins in 1963, with the infamous 16th Street Baptist Church bombing in Birmigham Alabama. Four black schoolgirls were killed in the bombing, which was done at the behest of the local Ku Klux Klan in response to the burgeoning Civil Rights movement. Although many people had a pretty good idea of who was responsible, the investigation was effectively blocked by then-FBI chieftan J. Edgar Hoover. Years later, a kinder and gentler FBI reopens the case, with dedicated federal agent Dalton Strong (Colm Feore) at the helm. Fortunately for Strong, the two main suspects are still living: one of these men, former Klansman Bobby Frank Cherry (Richard Jenkins), has always managed to elude capture because of an airtight alibi provided by his family. But Bobby's grown-up son Tom Cherry (Tom Sizemore) begins to have doubts about that alibi, doubts fueled by his close friend, a local African American house builder named Garrick Jones (Ving Rhames). Ultimately Tom Cherry must wrestle with his conscience, not to mention deep-rooted family loyalties, as he comes to the inescapable conclusion that his beloved father may not only be a liar, but a murderer as well. The fate of the real Bobby Frank Cherry was still pending when Sins of the Father was being filmed in Toronto in 2001. A final court decision concerning Cherry took place a scant six days before the film made its cable-TV premiere over the FX Network on January 6, 2002.
Critic Reviews for Sins of the Father
Audience Reviews
There are no featured reviews for Sins of the Father at this time.
Sins of the Father Quotes
There are no approved quotes yet for this movie.