The Sisterhood of the Traveling Pants
(2005)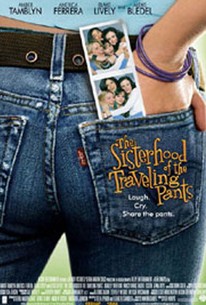 TOMATOMETER
AUDIENCE SCORE
Critic Consensus: This adaptation of a beloved novel charms with its heartwarming tale of friendship and young adulthood; realistic portrayals of the lives of teenage girls lend the comedy-drama sincerity, and may capture hearts outside the female-centric demographic.
The Sisterhood of the Traveling Pants Photos
Movie Info
When they turn 16, four lifelong friends are upset over the prospect of spending their first summer apart. As they scatter to different locations, their one bond is a cherished pair of jeans they've shared. Each will keep the pants for two weeks of her trip, passing them on to the next girl. Each faces serious coming-of-age problems, and somehow the pants help them through.
News & Interviews for The Sisterhood of the Traveling Pants
Critic Reviews for The Sisterhood of the Traveling Pants
Audience Reviews for The Sisterhood of the Traveling Pants
½
With a cast this talented, who cares if the majority of the audience is only females, I loved this film, for everything it strived to be, and everything it ended up being in the end. "The Sisterhood of the Traveling Pants" is one of those rare novel-to-film stories that really, really works. Once realizing that they will all be off doing their own things during the summer, these four girls decide to find something that will hold them close together. Once they discover a pair of pants that miraculously fits all four of them, they have the idea of mailing them to each other for luck to stay connected. Although the film sets up that premise, there is much more to this than meets the eye. Dealing with the troubles of life, family, happiness, and love, this film has it all. Anyone from teenagers to adults will be able to find at least something to connect to, and even if you are not female. The message in the third act of the film is not preachy in any way and they pull it off the best they could. Yes, a tear or two may have trickled down my face during this film, but that is solely due to the fact that the filmmaking was carefully done to make you care equally about each character. In the end, I loved watching this film. The only lingering complaint I had about this picture was that a bit of the dialogue felt a little too "novelly," but what do you expect? "The Sisterhood of the Traveling Pants" is an extremely pleasant surprise. I cannot recommend this film enough!
A really underrated film! I really like this one. The soundtrack is awesome too.
Jameson Worley
Super Reviewer
Unfocussed and poorly scripted. Full review later.
Thomas Bowler
Super Reviewer
The Sisterhood of the Traveling Pants Quotes
| | |
| --- | --- |
| Bailey: | Maybe the truth is there's a little bit of loser in all of us, you know? Being happy isn't having everything in your life be perfect. Maybe it's about stringing together all the little things like wearing these pants. |
| | |
| --- | --- |
| Tibby: | She said that we were right all along and that the pants are magic and I don't know the details but I do know Lena; and for her to say that means... that it must be true. So I was thinking that maybe you could have them for a while. |
| Bailey: | They don't fit me, remember? |
| Tibby: | Yeah, I know, but that doesn't matter... none of it really matters... you have to take them, Bailey. Okay, you have to let them help you, please. I know that you're tired, okay, but you can't give up, the Pants will give you a miracle, you have to believe. |
| Bailey: | The Pants have already worked their magic on me. They brought me to you. |