Sita Sings the Blues
(2008)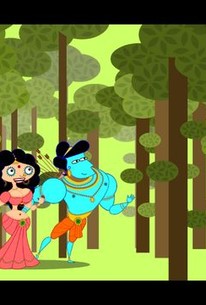 TOMATOMETER
AUDIENCE SCORE
Critic Consensus: A tour de force for filmmaker Nina Paley, Sita Sings the Blues gives the Ramayana its animated due with a visually vibrant, dazzlingly imaginative triumph.
Sita Sings the Blues Photos
Movie Info
In the Indian legend, Sita is given to Prince Rama in marriage after Rama conquers the other princely suitors for her hand. No sooner is Rama appointed crown prince than he falls victim of a plot that sends him into banishment for fourteen years. Sita accompanies her husband, but is abducted shortly afterwards. With the aid of friendly gods, Rama sets off in pursuit and, following a dangerous struggle, succeeds in freeing her. Rama and Sita return to their home where Rama is made king. But soon after this Rama begins to doubt his wife's fidelity and casts her out. Sita undergoes a fire test to prove her steadfastness, survives unscathed and returns to Rama.
Critic Reviews for Sita Sings the Blues
Audience Reviews for Sita Sings the Blues
½
In the 14th century(almost definitely B.C.), Rama is in line for the throne. But that is derailed by a promise by the current king that causes Rama to be exiled for 14 years. His true love, Sita, joins him in exile. Not soon after, she is kidnapped by Ravana. In modern day San Francisco, Nina and Dave live a life of contentment together with their cat. One day, he gets a six-month job offer in India which he accepts. "Sita Sings the Blues" is a mesmerizing and immensely entertaining movie that mixes a wide variety of animation styles in the service of the neat trick of pulling the epic Ramayana(which sounds familiar) into the modern day by injecting it alongside a possibly autobiographical storyline. Plus, we get commentary on the ancient text that is as playful as it is thought provoking. Even the intermission is fun. And then there are the blues songs which fit into the narrative perfectly, all in a positively feminist way.
½
An oddly cute and unorthodox film utilizing hilarious shadow puppets and really nice cross-cutting blues music with Annette Hanshaw. I got to learn a little bit about Indian religion, experienced a real-life breakup semi-familiar to me, enjoyed some soothing music, and sometimes laughed my head off.
Jennifer Xu
Super Reviewer
A delightful little animation, unfortunately stuck in litigious limbo for the time being on account of its unlicensed jazz soundtrack, which is a great pity because it is enormous fun and deserves to reach the widest possible audience. I cannot say I knew anything about the Ramayana before watching Sita Sings the Blues. However, not the least of its achievements, the film is remarkably educational with respect to its sources, somehow managing to be simultaneously reverent and humorously critical. There are several component parts to the narrative, each with its own individual style of animation. Wonderfully voiced, with an almost improvisational feel, a trio of shadow puppets set the scene, introducing the characters and discussing the events of the Ramayana before we watch them unfold. In addition, writer/director Nina Paley contrasts the turbulent relationship of Rama and his wife Sita with her own autobiographical tale of marital break-up. Finally, interspersed throughout are the Twenties jazz songs of Annette Hanshaw, as lip-synched by Sita. What with kidnap, banishment, single motherhood and trial by fire among her woes, there's little wonder she's singing the blues, poor girl! Women, dump your men and get a cat! "That's all" :D
Sita Sings the Blues Quotes
There are no approved quotes yet for this movie.