Six Days, Seven Nights
(1998)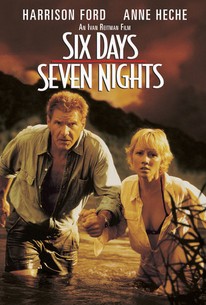 Six Days, Seven Nights Photos
Movie Info
In this romantic comedy-adventure, magazine associate editor Robin Monroe and her boyfriend Frank leave for a vacation on a remote island. For a one-day Tahiti photo shoot, Robin engages the services of South Pacific cargo pilot Quinn Harris. However, a squall strands Robin and Quinn on a remote, unknown island.
Critic Reviews for Six Days, Seven Nights
Audience Reviews for Six Days, Seven Nights
Six Day Seven Nights is a mediocre picture that has a lacking script and wastes an exciting idea on poor storytelling and direction. Ivan Reitman has made far superior films than this. With this film, he just delivers a film that is somewhat predictable, and in the end ends up being a waste of time. I really wanted to enjoy the film, but it felt like the filmmakers rushed through the material as if they didn't care about making a good film. The film also left you wanting a bit more by the times the credits roll and the attempt at comedy and action just fall apart and never materializes into something entertaining. I felt the performances were flat and not interesting and the film as a whole could definitely have been much better than this. Harrison Ford has made far superior films, and this one is one of his weakest, and is not worth seeing. This film could have been good if the script would have been solid, but it wasn't. This is a poorly constructed effort that simply just doesn't deliver. This is a boring film with nothing to offer and if you're expecting something good, you'll be disappointed because it features some fairly predictable situations and outcomes. Overall this is a film that uses genre elements in order to create something, but it never materializes into something truly memorable. This is a lacking film that wastes its potential on lacking ideas that fall flat. This film really could have been fun and entertaining, but it just doesn't add up to much.
½
Robin (Anne Heche) and Frank (David Schwimmer) have been together for three years, but Robin decides in six days that Quinn (Harrison Ford) is the one for her. It is a fun romp of a movie - little short on believability.
½
Sometimes entertaining, but actually this romantic-adventure comedy is just another dumb and artificial Hollywood comercial "fast-food" junk movie. Rotten.
Lucas Martins
Super Reviewer
Six Days, Seven Nights Quotes
| | |
| --- | --- |
| Robin Monroe: | Pirates? As in "arrrgh"? |
| Robin Monroe: | Pirates? As in 'arrrgh'? |
| | |
| --- | --- |
| Quinn Harris: | You know how a woman gets a man excited? She shows up. That's it. We're guys, we're easy. Of course for that you can't charge seven bucks an issue, now can you? |
| Quinn Harris: | You know how a woman gets a man excited? She shows up. That's it. We're guys , we're easy. Of course for that you can't charge seven bucks an issue, now can you? |
| | |
| --- | --- |
| Robin Monroe: | I've flown with you twice and you've crashed half the time |
| Robin Monroe: | I've flown with you twice and you've crashed half the time. |