The 6th Day
(2000)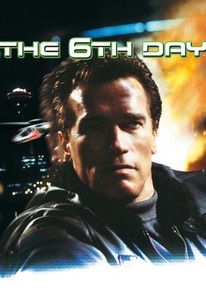 TOMATOMETER
AUDIENCE SCORE
Critic Consensus: This offering from Arnold Schwarzenegger contains an intriguing, disturbing premise, but the film's execution is too routine and formulaic to make good use of it.
Movie Info
In this science-fiction thriller set in the very near future, DNA cloning has been perfected and has become an accepted part of everyday life -- cattle and fish are cloned for sale at the market, genetically engineered fruit and vegetables are found in most family's kitchens (nacho-flavored bananas, anyone?), and if your pet dies, you can even order a cloned replacement. But laws have been passed that strictly forbid the cloning of human beings. However, helicopter pilot Adam Gibson (Arnold Schwarzenegger), who believes people should live and die the old-fashioned way, discovers that someone has been violating these regulations. After Adam luckily avoids being on a copter that crashes, he comes home to discover someone has duplicated him. Now Adam is on a mission to find out who cloned him and why, as he struggles to take back his life from a scientifically created impostor, his boss Michael Drucker (Tony Goldwyn), and a pair of thugs (Sarah Wynter and Rod Rowland) who have been cloned into near-indestructibility. The 6th Day also stars Robert Duvall as cloning expert Griffin Weir, Michael Rooker as Drucker's right-hand man Robert Marshall, and Michael Rapaport as Adam's partner, Hank Morgan.
Critic Reviews for The 6th Day
Audience Reviews for The 6th Day
½
Run-of-the-mill actioner with name brand star headlining, a movie that asks whether or not cloning is morally right while ironically cloning several sequences from other movies. That's a shocker.
Kevin M. Williams
Super Reviewer
½
I was fairly apprehensive about seeing the 6th Day, but I was glad I did. The film starts off a bit slow, but it steadily builds up to a riveting, action packed climax. This is the type of film where you don't expect much from its concept, acting and overall enjoyment, but in the end is very well done. There are a few areas where the film could have been improved upon, such as some of the dialogue could have been reworked. As it is, it's an exciting action film with a good cast of actors, and for diehard action film fans, they'll surely enjoy this film. I found this one to be a pleasant surprise, and it's a film that is quite underrated and it doesn't deserve the flack it has received. Fans of Arnold Schwarzenegger will definitely enjoy this, and the story here is well put together and executed. Director Roger Spottiswoode crafts a solid film that deserves a second look. The 6th Day may not be a perfect film, but it definitely is better due to the fact that has some good performances and well executed action scenes that manage to keep you on the edge of your seat. Underrated, and better than expected, The 6th Day is a film that is pure adrenaline from start to finish. Like I stated before, it's a bit of a slow start, but it quickly takes off, and when it does it doesn't let go, and it keeps the thrills coming. This may not be Schwarzenegger's greatest film, but it's nonetheless a fun, entertaining popcorn film that you should see if you enjoy Arnie's work. The film may not be a standout Arnold's career, but it's nonetheless a worthwhile actioner to watch if you have nothing else to watch.
LOL, must I say how bad this movie is? I remember my mom told me that Koreans were thinking this would be "Terminator 3".... nope. Terminator 3 was better than this garbage. This is the literal tagline to the movie: "You've cloned the wrong man." LOL HAHAHAHA This is a quote from the movie: Evil dude: "You think cloning's evil?!" Arnold Schwarzenegger: "No, I think you're evil." LOL This movie is a comedy, unintentionally.
The 6th Day Quotes
| | |
| --- | --- |
| Dr. Griffin Weir: | Doesn't anyone stay dead anymore? |
| Adam Gibson: | Doesn't anyone stay dead anymore? |