The Sixth Sense
(1999)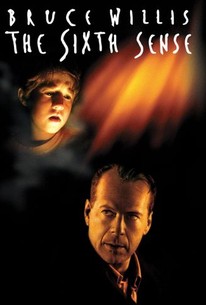 TOMATOMETER
AUDIENCE SCORE
Critic Consensus: M Night Shayamalan's The Sixth Sense is a twisty ghost story with all the style of a classical Hollywood picture, but all the chills of a modern horror flick.
Movie Info
In this chilling psychological thriller, eight-year-old Cole Sear is haunted by a dark secret: He is visited by ghosts. A helpless and reluctant channel, Cole is terrified by threatening visitations from those with unresolved problems who appear from the shadows. Confused by his paranormal powers, Cole is too young to understand his purpose and too terrified to tell anyone about his torment, except child psychologist Dr. Malcolm Crowe. As Dr. Crowe tries to uncover the ominous truth about Cole's supernatural abilities, the consequence for client and therapist is a jolt that awakens them both to something harrowing -- and unexplainable.
Critic Reviews for The Sixth Sense
Audience Reviews for The Sixth Sense
½
One of Bruce Willis' best, it was the first movie where i finally gathered that it's not just that people pay to see a movie that makes a film hot, but rather how many times they go back ... to see that shit again, that's what makes a blockbuster. This is one hoot, yah sure, you betcha, worthy of repeat viewings ... M.Night Shyamalan hasn't beat this one yet. Willis and Osment create a intricate and layered chemistry that comforts in the face of horror. And Toni Collette's Mom is an exquisite creation indeed. This is why we go to the movies.
Kevin M. Williams
Super Reviewer
½
No matter how much M. Night Shyamalan continues to go downhill, this will continue to hold up as a great film. Influenced by an old episode of the show "Are You Afraid of the Dark?", this is an engrossing psychological thriller about a troubled child psychologist named Dr. Malcolm Crowe who begins to treat a gifted boy named Cole who confesses he has the ability to see the dead. Both Dr. Crowe and Cole are troubled, and share a sense of alienation, and while Crowe should be the one helping Cole, it seems that there could be a turning of the tables, with Cole being the one helping Dr. Crowe put his own demons to rest. Twist endings were nothing new when this film came out, but it seemingly resurrected the trend (for better or worse). Heck, the trend has continued through most of the rest of Shyamalan's own work since then. It is a good twist, and it works, but I like this film regardless of the twist. I mostly just like how well the twist works, and the point that it gives the film, making you realize it's really about something other than you initially think it is. In general, this is just an extremely well crafted film. Everything is very deliberate, thought out, and expertly set up and executed. This is some great writing and direction, and it's all highlighted by some excellent and evocative cinematography and camera work. At the core of the film though, and what really holds it all together are the two central performances from Bruce Willis and Haley Joel Osment,. Willis proved he can really excel at serious drama, and was even awarded an Oscar nod for his efforts. He's great ,but actually manages to get practically outshined by Osment. Most child actors are so-so at best, but this kid knocks it out of the park here, and it's a shame he's pretty well fallen into obscurity. These two have great chemistry with one another, and you really get drawn into their world and want to see them get through their situations. The other performers are also good, but mostly overshadowed by these two, A big exception would have to be the brief but memorable appearance of Donnie Wahlberg as a former patient of Dr. Crowe's. It's chillingly effective. Actually, 'chillingly effective' is a great way to sum of the whole film. It's moody, atmospheric, eerie, and unforgettable, largely because of the things I've already mentioned, but also because of the terrific score as well. This film gets talked about a lot, and I doubt any of what I've said are new contributions, but trust this film's reputation as great and go see it if you, for some reason, haven't already.
Chris Weber
Super Reviewer
½
[img]http://images.rottentomatoes.com/images/user/icons/icon14.gif[/img] It kills me to say it but I wasn't particularly scared by The Sixth Sense. I rather found the story intriguing and wanted to know what was going to happen following every twist and turn. So much so that it ends with one massive twist that I honestly never saw coming. It's well constructed generally but I think there are some problems with it. Firstly M Night Shymalan is a very talented writer/director and it was here pretty much where his career truly got off the ground. But the fundamental flaw is his script, it's written with a self confidence that makes the experience of watching the film unengaging and oddly detatching. What he gets right is his spectacular direction of the filming and the performances of the cast. And Bruce Willis plays his character outstandingly considering he'd never really done many toned down, "talky" performances up until that point. Which bring me to it's second flaw, it never knows when to shut up. It's a film that constantly has characters explaining things and talking very quietly and slowly in a way that isn't really creepy. But what made it work in the end for me was my admiration of the incredible performances and the various plot twists. Shymalan makes every single character interesting and keeps the general tension alive. It's not a masterpiece, I think the critics were too fair too it, it's by far an over rated ghost flick, but it does so much with so little resources and proves M Night Shymalan knew how to make films before recent lacklusters like The Last Airbender. It feels so different, and is in ways an art house horror about children's social anxiety, among other reasons I would certainly recommend it as a simple piece of Hollywood entertainment mixed with elements of a classic ghost story.
Directors Cat
Super Reviewer
The Sixth Sense Quotes
| | |
| --- | --- |
| Cole Sear: | I see dead people! |
| | |
| --- | --- |
| Cole Sear: | I see dead people. |
| | |
| --- | --- |
| Cole Sear: | I see dead people |
| Cole Sear: | I see dead people. |
| | |
| --- | --- |
| Cole Sear: | She wanted me to tell you... |
| Lynn Sear: | Cole, please stop... |
| Cole Sear: | She wanted me to tell you she saw you dance. She said, when you were little, you and her had a fight, right before your dance recital. You thought she didn't come see you dance. She did. She hid in the back so you wouldn't see. She said you were like an angel. She said you came to the place where they buried her. Asked her a question? She said the answer is... "Every day." What did you ask? |
| Cole Sear: | She wanted me to tell you she saw you dance. She said, when you were little, you and her had a fight, right before your dance recital. You thought she didn't come see you dance. She did. She hid in the back so you wouldn't see. She said you were like an angel. She said you came to the place where they buried her. Asked her a question? She said the answer is... 'Every day.' What did you ask? |