Sketches of Frank Gehry
(2006)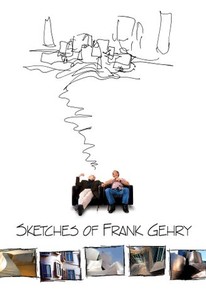 TOMATOMETER
AUDIENCE SCORE
Critic Consensus: This affectionate, casually framed portrait of the acclaimed architect reveals him to be an engaging, likeable subject.
Sketches of Frank Gehry Photos
Movie Info
Frank Gehry is that rare kind of architect who has garnered both critical acclaim and popular recognition. His designs dramatically blur the line between art and architecture; his sketches and models are the basis for dynamic structures and unpredictable interiors. Gehry's friend, Sidney Pollack, directs this film; akin in nature to Gehry's own impromptu, free-hand style, the two men appear on film together, capturing this shy, elusive artist and illuminating his innovative process--including expansive depictions of Gehry's most important architectural wonders across the globe.
Critic Reviews for Sketches of Frank Gehry
Audience Reviews for Sketches of Frank Gehry
How to analyze a documentary? What to take into consideration? When most documentaries follow the same structure and format, and considering that the main objective was reached, the subject ends up being the determinant. At least, for me. Frank Gehry is a Canadian architect who acquired both critical acclaim and popular recognition with unlike buildings that cross the lines between architecture and art, functionality and free creation. If you are not familiar with his work, I would say it reminds me of Franz Kakfa, the German Expressonism and Futurism (google Umberto Boccioni and Carlo Carrà and compare their work to the Gehry´s). His expressionist postmodern architecture, I must say, doesn´t really appeal to me, although I realized that more than the shape, what makes big impact on me is the material. Having what I would call a conservative taste, I feel attracted to brick and stonework when steel, glass and metal keep me away. I like the MARTa Herford Museum, in Germany, that was clad in brick and stainless steel, as also the Dancing House, in Prague, but the Novartis Building (Switzerland), the Experience Music Project (Seattle) and the Walt Disney Concert Hall (LA) can call the attention of the eyes, but not of my heart: I don´t feel the impulse to explore such places. Bringing it to the cinema, it´s like Monsieur Hulot´s house versus Arpel family´s house. The futuristic house from Jacques Tati´s film Mon Oncle is very formal and static (geometric) to could have been built by Gehry, but we can say it has some similar characteristcs: the fish-shaped fountain, for example, even though Gehry would make it much bigger. In the other hand, even being an ancient building, Monsieur Hulot´s "house" has a sort of chaos and movement that would attract Gehry and which charm and personality definitely attracts me. What I most like about Gehry´s work is the whole process of creation, the "giving form" more than the form itself. Instead of the final product, I choose his sketches and mock-ups. The whole process is exciting and Sydney Pollack portraits it quite well what makes me wonder how to rate this documentary. Gehry´s work is interesting, but can this film please those who are not interested in architecture? I am not sure.
Rubia Carolina
Super Reviewer
½
I met Sydney Pollack when he came to New Orleans to introduce and discuss this film. I actually worked at the mall where the cinema was, and I couldn't work up the nerve to say anything at the screening, but the next morning he came into my workplace and I got a tete-a-tete with someone who was very much an academic guide for film theory and history on top of being a brilliant director (with great taste in what colors to wear). Anyways, this film. Yes. If you don't know Frank Gehry, just think of the oddest building you've ever seen and chances are it is or is derivative of Frank Gehry. For a reference point, Gehry did Bilbao Guggenheim and Seattle's Experience Music Project. Pollack and Gehry have long been friends, and the documentary was filmed as an independent project of Pollack's over the course of a few years and many meetings with his friend Gehry. The two talk of art, design, inspiration, and everyday stuff. Gehry explains his process as an architect. Pollack captures some stunning shots of Gehry's work for just using a handheld diigital. If you like to see a brilliant (and some will say odd) artist revealing the guts and marrow of his profession, this is the film for you.
_kelly .King
Super Reviewer
Oh dear. Would could have been a fascinating insight into architectural design turns out to be a load of sentimental hero-worshipping clap-trap! A slide-show would have taught me more about Frank Gehry's work!
Ross Collins
Super Reviewer
Sketches of Frank Gehry Quotes
There are no approved quotes yet for this movie.