Skipped Parts
(2000)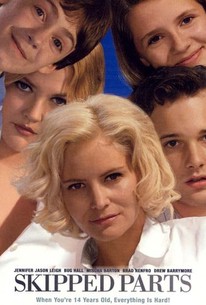 AUDIENCE SCORE
Critic Consensus: No consensus yet.
Movie Info
In this comedy-drama, a teenage boy gets a crash course in the mysteries of love and sex. Lydia Callahan (Jennifer Jason Leigh) had her son Sam when she was only 14 years old. Now 14 himself, Sam (Bug Hall) finds himself in the small community of GroVont, WY, after his mother is run out of town by her own father (R. Lee Ermey). While Lydia is helped through her transition by Hank Elkrunner (Michael Greyeyes), Sam doesn't fit in at school and runs afoul of bully Dothan Talbot (Brad Renfro). But he soon makes friends with classmate Maurey Pierce (Mischa Barton), who makes an unusual proposal: since she doesn't want to seem inexperienced when she loses her virginity, perhaps Sam could help her practice the finer points of sex. While Sam is more than willing to help, this arrangement creates complications that his fantasies about his Dream Girl (Drew Barrymore) have not prepared him for. Skipped Parts is based on the novel of the same name by Tim Sandlin.
Critic Reviews for Skipped Parts
Audience Reviews for Skipped Parts
½
Cast: Drew Barrymore, Jennifer Jason Leigh, Mischa Barton, Bug Hall, Brad Renfro, R. Lee Ermey, Gerald Lenton-Young, Peggy Lipton, Andrea Menard, Michael Greyeyes Director: Tamra Davis Summary: In 1963, Lydia (Jennifer Jason Leigh) and her 14-year-old son, Sam (Bug Hall), are sent to live in Wyoming while Lydia's politician father runs for governor of North Carolina. There, Sam meets Maurey (Mischa Barton), a pre-pubescent girl struggling with her sexuality. And while Lydia lives it up, Sam and Maurey race to grow up. But becoming an adult is harder than any of them expected in this coming-of-age drama co-starring Drew Barrymore. My Thoughts: "I find it funny that they promote Drew Barrymore on the cover when she's in the film for maybe ten minutes all together. Her part in the film is minor and has no real substance. Jennifer Jason Leigh is fantastic in the movie. Her character is wild and free and very much over the top. I liked her in this free spirit role. Bug Hall was good as well. It's funny how well Mischa Barton acted as a child. As she's gotten older it seems like she has lost that confident spark. I liked her in this. Sam and Maurey give you a great glimpse of the example of teenagers who have parents that either don't communicate with them, or do so in a negative way. These young kids are sexually curious and are willing to do whats necessary to find out what it's all about. One has a mother who is very prim and modest (or so you think), while the others mother is very flamboyant, and by her son's remarks, has had many suitors and really isn't much of a mother. But of course out of the two mothers, they ask the flamboyant one, which is a mistake. She is careless with her comments and pretty much gives these young teens permission to do whatever. The movie is basically about discovering sex and growing up and dealing with the very adult consequences that come with having sex. Not a great film, but still I enjoyed it."
♥˩ƳИИ ƜѲѲƉƧ♥
Super Reviewer
½
Pretty enjoyable but with a meaningless and incoherent story.
Hilarious! Jennifer Jason Leigh is great.
Skipped Parts Quotes
There are no approved quotes yet for this movie.