The Skull
(1965)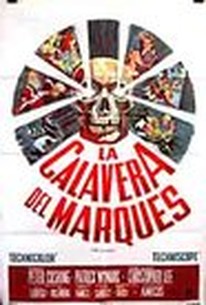 AUDIENCE SCORE
Critic Consensus: No consensus yet.
Movie Info
Adapted from the Robert Bloch short story "The Skull of the Marquis de Sade," this inventive gothic chiller from Amicus stars Peter Cushing as Professor Maitland, a collector obsessed with obtaining artifacts reputed to have occult powers -- including the title object, believed to be from the crypt of the notorious French nobleman. Shortly after the Professor brings home his latest find, the skull begins making nightly rounds (the gliding camera peers through the eye sockets for the nifty "skull-cam" point-of-view shots) before eventally dominating Maitland's will. Despite the potentially cheesy premise (which sounds better suited to a William Castle project), the film is remarkably subtle and spooky thanks to the deft hand of director Freddie Francis and an excellent performance from Cushing. ~ Cavett Binion, Rovi
Critic Reviews for The Skull
All Critics (3) | Fresh (3) | Rotten (0)
A very solid and satisfying version of bog-standard horror stuff... [until] the movie takes a major step up in quality, interest, and just plain all-around weirdness.
The Skull succeeds against the odds... Freddie Francis enlivens a rote script with his visual flair.
While the film drags in parts and can't be counted as a classic, it's a rock solid Amicus production and a must-see for fans of that studio's work.
Audience Reviews for The Skull
Peter Cushing plays a demonologist who collects any items pertaining to the occult, witchcraft, devil worship, etc... This desire for the bizarre leads to his encounter with the skull of none other than the Marquis de Sade himself. This film produced by Amicus has a lot going for it. It has a good story by Robert Bloch as the basis for the script, some fine acting from Peter Cushing in the lead and Patrick Wymark as a disreputable salesman, good character roles by George Coulouris, Patrick Magee, Nigel Green, Michael Gough, and particularly Christopher Lee, some imaginative direction from Freddie Francis, and some very stylish set pieces and costumes. Francis has limited special effects at his disposal, and this is a minor distraction as in one scene you can clearly see wires carrying the skull and a book in the air. Francis also gives in too long I think to some dream sequences and other "are they real or not real" happenings with his camera predominating over long periods of silence. It works well at first, but it does grow stale with repeated use. The story and acting, however, greatly enhance the film and make me give it an easy recommendation.
David Ladd
Super Reviewer
½
oh, i adore the way they used to make horror movies like that, un-scary, atmospheric with an air of psuedo-enigma on various occults. this time, the skull of sade is the pandora's box which unlocks the evil.
Veronique Kwak
Super Reviewer
The Skull Quotes
There are no approved quotes yet for this movie.