The Skulls
(2000)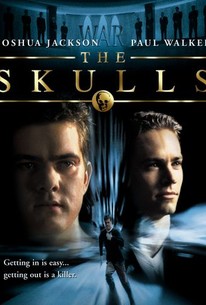 Movie Info
In this suspense drama, a college student finds himself immersed in forces beyond his control. Born and raised in a working-class Connecticut community, Luke McNamara (Joshua Jackson) made it into an Ivy League college, where he's done quite well; his dream is to be accepted into Harvard Law School, but he knows that it will take more than a good report card to beat out the competition. When an upper-crust secret society called the Skulls asks Luke to join, he eagerly accepts, thinking that the club's connections will help him gain acceptance to Harvard. He enjoys the Skulls' luxurious lifestyle, but when his roommate, a journalism student, dies of an apparent suicide, he's convinced that something is wrong. The deeper Luke digs into the secrets of the Skulls, the more he's convinced that his friend's death was no suicide and that he's put himself in more danger than he imagined. The Skulls was the first starring vehicle for Joshua Jackson, who gained fame on the TV series Dawson's Creek; the supporting cast includes Paul Walker, Craig T. Nelson, Hill Harper, and William L. Petersen.
News & Interviews for The Skulls
Critic Reviews for The Skulls
Audience Reviews for The Skulls
Good thriller about college faternity. Great performances by Joshua and Paul.
Candy Rose
Super Reviewer
Will Beckford: If it's secret and elite, it can't be good.  "Getting in is easy. Getting out is a killer." The Skulls has an interesting plot surrounding it for sure. That's what made me want to watch it. Even with a good sounding concept though, this movie fails on so many levels. With a better cast, less melodramatic bullshit, and dialogue that doesn't sound like a made for tv movie; it could have succeeded. I still have to admit to being entertained by this garbage, and also I applaud it for its material. In the end though, it's still a movie that must be judged as any other. Lucas is a hard working student at Yale. While most of the people around him come from families of power and wealth; he does not. He has to work for everything he gets. When a secret society picks him for its new membership class, he gets everything he couldn't have before. He gets money, he gets women, he gets a new car, and he gets a brotherhood of powerful men that would do anything to protect him. He's living it up like one of the social elite. That is until he finds his best friend hanging from the ceiling.  The Skulls is a movie based around the concept of a secret society. The secret society that this film most notably is impersonating is that of The Skull and Bones, which is a real secret society at Yale. Among it's members were George H.W. Bush, George W. Bush, and John Kerry. The thing I really liked about this movie was that it didn't pull punches. If you don't think this is the type of corrupt shit that goes along with all these secret societies that the globalist elite are a part of; you're wrong. It's okay though, because we will all see some day. In real life, these societies go much deeper than this, but as a surface scraping movie, it deserves a little praise for at least making an attempt. It's not a documentary, but a piece of fiction; I get that. There is, however, some truth in it. Overall, I actually enjoyed the movie to a degree. It was of the so bad, it's good variety of enjoyment though. The dialogue, acting, and plot developments are rather shitty, but underneath it all; it does have an entertaining and involving plot. The most important scenes feel rushed though and the ending will leave you in a state of shock, that this script could actually get pushed through as was. Oh well though. It could have been much, much better, but in the end, this was what we were left with.
Melvin White
Super Reviewer
This movie had lots of potential, but never filled it. The premise and the actual story is really interesting, but the cheesy acting kills the film.
Eric Alvarez
Super Reviewer
The Skulls Quotes
There are no approved quotes yet for this movie.