Skyline
(2010)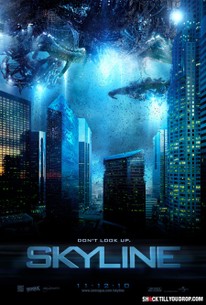 TOMATOMETER
AUDIENCE SCORE
Critic Consensus: A middling sci-fi entry, Skyline offers proof that solid special effects alone cannot overcome a flat storyline filled with uninspired dialogue.
Movie Info
After a late night party, a group of friends is awakened in the dead of the night by an eerie light beaming through the window. Like moths to a flame, people outside are being drawn to strange lights, which have descended upon Los Angeles, and then suddenly vanishing into the air. Survivors must fight for their lives as the extraterrestrial force threatens to swallow the entire human population off the face of the Earth.
News & Interviews for Skyline
Critic Reviews for Skyline
Audience Reviews for Skyline
Now I liked this film despite numerous numerous bad reports from virtually everyone, yes it has clunky acting and yes the plot has lots of holes but its actually a good fun sci-fi romp. As said the plot has its problems agreed, aliens come down (for no real purpose it seems) to nick every humans brain (it seems) and that's it. There isn't really any other explanation. The aliens themselves are a hybrid of many other movie creatures eg. 'The Matrix', 'ID4', 'Cloverfield', 'The Mist', 'Monsters' etc...although I admit it isn't easy to create a unique original alien anymore, these aren't too bad but maybe the brothers should of stayed away from the usual tentacle option again. So despite the aliens not being too original looking they are effective and do create tension throughout...although how they pilot their space cruisers and star fighters is beyond me. The effects are a mixed bunch much like the acting, on both counts there are times when they are both pretty decent and do the job well, other times both fare rather badly and show this up for the cheap B-movie stuff it really is. That's not a problem to be honest as if you accept this as purely B-movie guff and you will enjoy it a whole lot more. Again though I must oppose the mass contempt for this film and praise the brothers for some neat CGI from the comforts of their bedroom. It is effective if maybe a little bit close to a videogame sequence, but that's not really a huge shock is it. Acting is very average yes but its not as bad as people make out, the cast are unknowns which works well for the film and makes it more realistic (unknowns are always a winner) or that little bit more believeable. Personally I thought all cast members were quite OK, apart from the odd moment of dialog with some hammy lines (David Zayas), nothing really detracted from my enjoyment of this 'War of the Worlds' clone. There is a nice sense of being trapped, isolated and alone, forced to hideout within this building which many have moaned is cheap or weak story telling. But in my opinion it works and the cast do a sturdy job in bringing that across. A slightly more serious take on 'Independence Day' with added 'War of the Worlds' plus bits of various other films. Its completely unoriginal even with one sequence involving US jet fighters going up against the alien mothership (total rip of a film mentioned). But an intriguing little ending which could lead to interesting things in the future did grab my attention. Its rather silly and hokey but lets remember this is a sci-fi B-movie affair right, question is why is it called 'Skyline'?
Phil Hubbs
Super Reviewer
Even though the effects this alien invasion has to offer are top notch, every minute feels like a student film. The minimum of dialog or character development show that someone wanted to create cool action scenes and alien attacks but knew little about how to tie them into a story. So while the look of the film is major league, it never manages to grip you or make you care much about anything that's going on. At least the ending is somewhat surprising and fresh, but may infuriate viewers for all kinds of other reasons. Wasted opportunities all around.
"I have been on a roll at picking shitty films lately. I seriously only picked this because I wanted to watch an Alien flick. Again I have chosen a film with a crappy cast, a crappy script, crappy everything. I kinda liked the concept, but the conclusion was messy and unexplained. You never find out why they are there and why they are doing what they are doing. It's another messy crappy sci-fi flick."
♥˩ƳИИ ƜѲѲƉƧ♥
Super Reviewer
Skyline Quotes
| | |
| --- | --- |
| Jarrod: | They're not beat... they're just really, REALLY pissed off! |
| | |
| --- | --- |
| Terry: | [on the phone] "Yeah well you shoulda thought about that when you shot the piece of shit." [hangs up] |
| Terry: | [on the phone] Yeah well you shoulda thought about that when you shot the piece of shit. [hangs up] |
| | |
| --- | --- |
| Walt: | Everyone is saying that this film was rubbish and it didnt have an ending but i think it was awsome!!! |
| Walt: | Everyone is saying that this film was rubbish and it didn't have an ending but think it was awesome! |
| | |
| --- | --- |
| Terry: | Their in the F***ing building |
| Terry: | Their in the f***ing building |
| Jarrod: | (the blids open) Terry? |
| Terry: | Its the timer ..... Hide |