Skyscraper
(2018)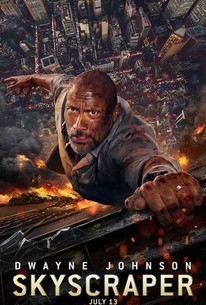 TOMATOMETER
AUDIENCE SCORE
Critic Consensus: Well-cast yet derivative, Skyscraper isn't exactly a towering action thriller feat, but it's solidly constructed enough to stand among the genre's more mildly diverting features.
Movie Info
Global icon Dwayne Johnson leads the cast of Legendary's SKYSCRAPER as former FBI Hostage Rescue Team leader and U.S. war veteran Will Sawyer, who now assesses security for skyscrapers. On assignment in China he finds the tallest, safest building in the world suddenly ablaze, and he's been framed for it. A wanted man on the run, Will must find those responsible, clear his name and somehow rescue his family who is trapped inside the building...above the fire line.
News & Interviews for Skyscraper
Critic Reviews for Skyscraper
Audience Reviews for Skyscraper
½
I started to review this movie on my phone's Gmail app since, apparently, stupid me forgot that I've been without WiFi for almost two weeks now and I thought I could continue this review on my laptop when I booted it up. Oh, me, you amuse me. Let's move on shall we. And, since I can't actually copy and paste this in a second, I'm gonna copy from my own draft on Google and write it out on this notepad. We now return to your regularly scheduled programming. Look, I gotta give Dwayne Johnson, The Rocky, Rocky, whatever you wanna call him, a lot of credit for his flexibility and versatility. Oh, you thought that I meant in regards to the roles he plays. No, but you're adorable for thinking that. What I mean is that this guy seems to have chemistry with everybody he works with. And this goes back to his wrestling days. At least verbally, since mic work was a major part of what made The Rock one of the WWF's biggest stars in its history. In the ring it's another matter entirely, because it also depends on the other person that you're facing and, if the person you're facing is Raja Lion, an awful wrestler, (real wrestling geeks that watch Botchamania get that reference), then it's gonna be impossible for anyone to have chemistry with him, as great as they may be. The point is that Rock had the gift of gab and he had chemistry with absolutely everybody he faced off on the mic. And that, much to his credit, has clearly transferred itself to his movie career. I really do think that it would have been less difficult for him to be the major box office attraction that he is (one of the biggest, actually). Though, if I'm being fair, I think major box office attractions have to have that factor. Tom Cruise, love him or hate him, has that. Will Smith has it. Denzel Washington has it. Chris Pratt has it. Sam Rockwell has it, despite not being a major box office draw. But I think Dwayne takes it to a higher level. Not necessarily in terms of the quality of his movies, because that's all subjective. But, in my opinion, for the time being, Dwayne makes movies that I probably would have crucified if he was replaced by anyone else watchable. This wasn't always the case, as the Tooth Fairy and the Game Plan are stil awful movies. But, to my point, I had absolutely no issues with the Baywatch movie that everyone seemed to hate. I wasn't positive on it, mind you, but I was far more positive than most. And I think that's what Dwayne brings to the table and it's something that he has brought consistently for a few years now since, to my mind, I haven't rated a Rock movie lower than 2.5 stars. And this is dating back to reviews that were only posted on RottenTomatoes before I ever created my Letterboxd profile. Again, I should point out that his entire career hasn't been this way, I think it dates back to the first Fast and Furious movie he was in, which would be in 2011. That's a fairly long run, at least out of the films I've seen and reviewed, of not being in something that I thought was an outright stinker. And that streak doesn't end with this film. Dwayne probably makes this more watchable than it would have been otherwise. Though, if I'm being fair, there's nothing inherently terrible about this movie at its core. It's a movie about this man, who was part of a military hostage rescue team (one of their rescues, invariably, went wrong and it ended up with the death of this family he was meant to rescue and the loss of his leg), saving his wife and children from the burning skyscraper after it is taken over by criminals and, naturally, set on fire. The skyscraper is the tallest in the world, something like 220 stories tall or something. Conceptually, the film is fairly straightforward. The group of criminals want to kill the financier of the Pearl, the skyscraper in question, for some 'dirty secrets' Li (the financier) has stored in this drive. The Rock, on one leg and all, clearly HAS to save the fucking day. If it all sounds a little too much like The Towering Inferno had sex with Die Hard and they were both drunk then, really, that's because all this movie is. And, ultimately, in my mind, that's probably the biggest flaw about this movie. It feels too much like other movies that, at least in the case of Die Hard, people adore. You're REALLY not doing yourself any favors inviting comparisons to what is regarded, by a lot of people, to be one of the best action movies ever made. Regarding The Towering Inferno, which a lot of people also love, I don't really get their love and, I'm sure this will be an unpopular opinion, but I liked this much more than The Towering Inferno. TWI isn't a bad movie, it's just way too fucking long and unfocused for its own good. This has a much more concise and focused story, so that helps quite a lot. Admittedly, I do feel that the action sequences were good enough for what this movie was meant to be. This isn't gonna change the world in terms of action, but it provides thrilling scenes for casual audiences to get into. I also think The Rock is good, as he always tends to be, here. That's another thing, I don't think we give enough credit to how good he's actually become as an actor. Not suggesting he's ever gonna win a major acting award, but he's quite a good actor. And no, he's not quite a good actor for a wrestler. He's quite good in general. Like I said, he's a large part (and this man is fucking MASSIVE) of why the film is as watchable as it is to me. However I still do think that the comparisons to more famous movies doesn't really help this movie in the slightest. And, honestly, there's nothing really that spectacular ABOUT this movie anyway. I feel that might have played part in the film's, relatively, disappointing performance at the box office. I say relatively because, worldwide, it still made more than double its budget. With other movies, like Rampage and Jumanji: Welcome to the Jungle, as recent examples, there was more of a hook. Rampage, it was the giant kaiju monsters fighting each other. Welcome to the Jungle was a pleasant, crowd-pleasing surprise that had a great cast. This movie, on the other hand, had the burning skyscraper and The Rock. That, apparently, was not enough to some people. There's just nothing about this that grabs your attention in any meaningful way, even if the movie ends up being quite decent and maybe even solid if I looked at it differently. Maybe I'm crazy, but there was nothing that I found terrible about this movie. I'm trying to think of something and nothing just comes up. It's nothing that you need to go out of your way to see, but there's worse ways to spend a couple of hours. I think there's enough solid action here to make a casual viewer happy, but the movie doesn't really achieve greatness on its own terms. It attempts to achieve greatness (spoiler: it doesn't) on the backs of the Towering Inferno and Die Hard. If the film had managed to find its own identity, which you can do even if you borrow from other movies (Tarantino has made a career of this), I think this would have been a much better movie. As it stands, this is an average movie that I had no problem watching. I wouldn't recommend it, but it's a must if you love The Rock. Because, really, if you love The Rock, you'd watch him eating popcorn and saying absolutely nothing for two hours. You disgust me with your low standards. Get out of here! Go on, git!
Jesse Ortega
Super Reviewer
Die Hard in a (X) is a pretty classic movie formula, it doesn't get as much play now as it did in the 80S and 90S, but we can still reliably expect at least one every couple of years, even now. But when it's Die Hard in a Skyscraper... I mean... That's just Die Hard. Even Die Hard 2 had the sensibility to be Die Hard in an Airport. Except that, no, this isn't just Die Hard, because (and I don't think anyone would be shocked to find this) it's not as good. I mean I love The Rock and all, but come on.
½
Dwayne Johnson has fought giant monsters, earthquakes, armies, drug cartels, race-enthusiast criminals, and video game villains, so now, as we run out of opponents, enjoy Dwayne Johnson versus... a building. Skyscraper is much more Towering Inferno than Die Hard, as Johnson plays a security specialist fighting to break into a burning building in order to rescue his family from a group of armed criminals. It's a movie that struggles to keep pace with schlock throughout its relatively brisk running time. There are some definite detriments, like a team of uninteresting villains with a pretty haphazard plan (in order to flush out a rich guy, they... set a building on fire?). Some of the sequences are just goofy in conception, like an access panel placed right under a spinning turbine, or a top floor architectural design that makes no sense except to provide a requisite location for a "hall of mirrors" finale. However, it's a perfectly serviceable action thriller, with a better handle on the material than I would have thought for the director of ribald comedies We're the Millers and Central Intelligence. Johnson is a perfectly magnetic leading man and the plot has a satisfying A-to-B-to-C progression of obstacles and practical solutions. Neve Campbell plays Johnson's wife and she is actually given important things to do rather than being a damsel in distress. She even saves the day. Skyscraper won't be a movie you'll remember long after having seen it, but it's got enough charm and decently structured set pieces to serve as disposable entertainment. Nate's Grade: B-
Nate Zoebl
Super Reviewer
Skyscraper Quotes
There are no approved quotes yet for this movie.