Slacker
(1991)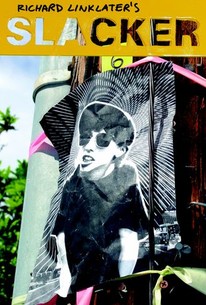 TOMATOMETER
AUDIENCE SCORE
Critic Consensus: Slacker rests its shiftless thumb on the pulse of a generation with fresh filmmaking that captures the tenor of its time while establishing a benchmark for 1990s indie cinema.
Movie Info
In Richard Linklater's Slacker, a girl tells her boyfriend, "You're just pulling these things from the sh*t you read. You haven't thought it out for yourself. It's like you pasted together these bits and pieces from your authoritative sources. I don't know. I'm beginning to suspect there's nothing in there." Linklater caroms from one character to another in the college community of Austin, TX, moving through an unlinked assortment of people who like to hear themselves talk but don't like to listen very much. The characters include a cab fare (played by Linklater) who expounds to the cab driver about his theory of reality, a robber who ends up getting a tour of Austin from his victim, a man who suspects that one of the Apollo astronauts saw an alien spaceship, and a woman carrying around Madonna's Pap smear in a cloudy container. Linklater's relaxed and ironic tone depicts a collection of post-Reagan lost souls adrift in a sea of shallowness with no direction home. As one character asks a friend, "Do you ever just want to get out of this country?"
Critic Reviews for Slacker
Audience Reviews for Slacker
½
A perfect portrait of Austin, Texas in the nineties, this film is full of vignettes of what it is like living out your twenties in that time period. It balances between being a love letter to Austin, and a diatribe about the collective characters that you meet when you're young. Linklater's films have often been heralded as centering on realism in contrast against the absurd. From the "Anti-Artist" in the bar scene to the conspiracy theorist in the book store, we've heard, and listened to, and felt exhausted by many of these same people in our lives. Though this film is nearly twenty-five years old, it feels just as relevant in today's times. Academia is always full of hotheads and passionate centenarians alike. This too is the world of liberal society, happy to philosophize about every aspect of life but intent on not living it. This film is funny, intellectually stimulating, and perversely amazing with its characters and cult following. A definitive piece of Linklater filmmaking and cultural iconoclast in the world of indie filmmaking, this is a must watch, in any case.
Spencer S.
Super Reviewer
In Richard Linklater's first feature film, there are clear moments of technical mishaps and set issues, however, with such an ambitious project most of that is forgivable for being his first film. There is no linear plot in this film, but it feels more like a relay race/hangout film, as one scene with characters seamlessly leads into another scene with new characters, and so on. "Slacker" is all about the lives of burnout teenagers as they live their lives after college. It was just very interesting to see how alike and how different some people are from each other. This film is brilliantly written, but that is what Richard Linklater's films are (character driven). Aside from some technical issues that may or may not take you out of the film, you should be able to really enjoy this film. It is a fantastic first attempt for director Richard Linklater, who Produced, Directed, Wrote, and appeared in this film. "Slacker" is great!
Even in this early stage of his career, Linklater makes his ambition known. Though the entire thing probably won't resonate with everyone, there may in fact be something for everyone in this weird, meandering narrative experiment that will change the way you think about the strangers you see every day.
Sam Barnett
Super Reviewer
Slacker Quotes
| | |
| --- | --- |
| Working on Same Painting: | Sorry I'm late. |
| Sidewalk Psychic: | It's all right, time doesn't exist. |