Slackers
(2002)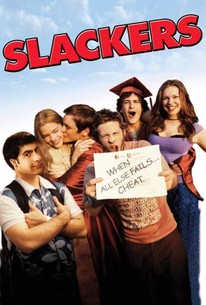 TOMATOMETER
AUDIENCE SCORE
Critic Consensus: Another teen comedy with little on its mind but moving to the next gross-out gag, Slackers strains for laughs and features grating characters.
Movie Info
Three lifelong cheaters wise up in this gross-out college comedy, which marks the second feature role for Rushmore star Jason Schwartzman. It's the last semester of senior year for roomies Dave (Devon Sawa), Sam (Jason Segel), and Jeff (Michael C. Maronna), a trio of twenty-somethings whose enthusiasm for higher learning is matched only by their enthusiasm for root canals performed without the aid of anesthesia. As such, their entire collegiate existence has been an elaborate series of cons and scams designed to plagiarize essays, skip midterms, and covertly manipulate bell curves. When deranged geek Ethan (Schwartzman) -- who harbors a psychotic fixation for a flaxen-haired co-ed named Angela (James King) -- gets wind of their scheming, he blackmails Dave and the gang into contriving a date between him and his crush. But as Dave cozies up to Angela, he realizes that no amount of scheming can hide the fact that he's the one that's truly in love. Slackers went by a number of working titles while in production at the ill-fated upstart Destination Films; when Destination went belly-up, the film sat on the shelf for over a year before being picked up for release by Sony's Screen Gems division.
Critic Reviews for Slackers
Audience Reviews for Slackers
½
There is a flavor to this film, designated to a distinct group of people. I am one of those people. The cast is a compilation of favorite comics that spans over several generations: Jason Segel (Freaks & Geeks, How I Met Your Mother), Laura Prepon (That 70's Show), Michael C. Maronna (Adventures of Pete & Pete), and of course, Jason Schwartzman, who appears to have almost built this part for himself. For a college kid comedy, "Slackers" is everything I wanted it to be.
Christopher Haskell
Super Reviewer
Jason Schwartzman. thats it.
Coxxie Mild Sauce
Super Reviewer
Devon Sawa is a slacker who falls in love with a girl, girl then finds out he's been up to something and this is twisted so it...I'm bored of talking about the plot. Let's move onto characters: high school "slackers" who get away with lots of stuff and Jason Schwartzman playing a guy who goes beyond creepy to plain dislikable and weird - and not in a good way. I think I laughed once if that's any recommendation, but it might have been about something else.
Marcus Woolcott
Super Reviewer
Slackers Quotes
There are no approved quotes yet for this movie.