Slam Dunk Ernest
(1995)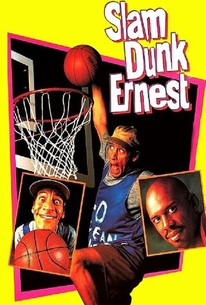 AUDIENCE SCORE
Critic Consensus: No consensus yet.
Movie Info
In this film, Ernest P. Worrell wants to play basketball on the amateur team with all the other janitors from his workplace. Unfortunately, they have all told him that white guys like him can't jump. That turns out to be true until he receives divine assistance from a friendly angel.
Critic Reviews for Slam Dunk Ernest
Audience Reviews for Slam Dunk Ernest
Ernest proves that white men can jump in the slapstick comedy Slam Dunk Ernest. When Ernest joins a city league basketball team an angel gives him a pair of magical shoes that allows him to jump incredible distances and run at super speeds. Varney gives one of his better performances as Ernest, and makes him a likable and sympathetic character with a heart of gold. And, director John Cherry does a decent job at staying within the low-budget limitation of the film. Still, the plot is pretty formulaic and idiotic. Plus, the jokes are painfully obvious, delivered with all the subtlety of a sledgehammer to the face. Yet despite being extraordinarily stupid, there's a bit of fun to be had in Slam Dunk Ernest.
Dann Michalski
Super Reviewer
Even though I love every Ernest movie, there are a few things in this one that ticked me off. First, I think Ernest gets mistreated worse in this than in any other Ernest movie ever made. The Clean Sweep team didn't really want him to play and all Ernest wanted was to be a part of a team. They called him a 'Dumb Redneck' a few times, they mocked him, made fun of him and it made me want to shove that basketball so far up their butts, it would come out of their heads. Only when Ernest starts winning do they 'like' him until he starts becoming the star of the team. I kept thinking, "Shoot, Ernest, you can win for losing, can you?" Yes, the fame does go to Ernest's head a little bit and maybe that was because he was finally getting some attention. He recovers back to his Ernest self in the end and the story does have an important lesson to learn. Success doesn't fall into your lap. You have to work hard for it. And Ernest didn't really care about being a huge star, he just wanted to be included. He was warned not to misuse the shoes and when he did, things started messing up for him even worse. And he didn't want to turn Quincy against his father, Barry. Erma was such a gold digger, that she definitely didn't deserve to be with Ernest or even in the same room as Ernest and it was great to see him tell Erma and Zimmel to leave him alone because they weren't who he thought they were. I love this film but I just wished they didn't write the script where the team lays into Ernest like they did. I get downright maternal when it comes to Ernest and I feel the need to protect him from the bullies in this world. We miss you, Jim.
Stacy Avary
Super Reviewer
Jim Varney plays the halarious Ernest and is the only thing that really makes this movie worth watching along with his teammates. The villians in this one is just pure annoying and the plot is not so good. It's an okay movie to watch for laughs, but beyond that it's kind of a flop. The magical shoes just were a little too far out for me.
Bobby Hobbs
Super Reviewer
Slam Dunk Ernest Quotes
There are no approved quotes yet for this movie.