The Slammin' Salmon
(2009)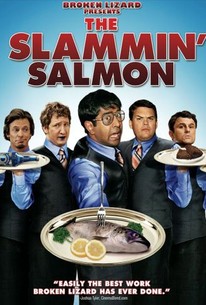 The Slammin' Salmon Photos
Movie Info
"Slammin" Cleon Salmon is a former Heavyweight Champion of the World turned celebrity owner of a high-end Miami seafood restaurant, The Slammin' Salmon. A terrifying bull of a man, Salmon uses fear to rule over his misfit waitstaff, and on this particular night, he takes his bullying skills to a new level. In an effort to pay off a gambling debt to the Japanese Yakuza, Salmon sets up a contest to 'inspire' his waitstaff to sell more food than they ever have before: the top selling server wins $10,000 while the waiter in last place gets served with a broken rib sandwich-courtesy of the Champ himself.
News & Interviews for The Slammin' Salmon
Critic Reviews for The Slammin' Salmon
Audience Reviews for The Slammin' Salmon
½
Cleon Salmon: You know what ten grand feels like in your pocket? It feels like a third cock. "Bring a bib, it's gonna get messy." The Slammin Salmon is exactly what you'd expect it to be if you've seen Super Troopers and Beerfest. It's a moderately funny, obscene, disgusting, and just an overall average comedy. Just as with Super Troopers and Beerfest, it's easy watching and enjoyable, but there's definitely something missing to take it to another level and make it a more than just average comedy. The Slammin Salmon is the name of a high end, seafood restaurant owned by a former boxing champion that still uses his size and past triumphs to intimidate his employees. The movie follows one night of business in the restaurant as we learn that The Champ lost a bet and owes a Japanese man $20,000. In order that the restaurant isn't taken away, he tells the manager that he must make sure they make the $20,000 in one night. Then he gives the workers some incentive by saying the top selling waiter or waitress of the night will be given $10,000. There's definitely a level of fun to be had while watching The Slammin Salmon, but it is also a highly forgettable film, which seems to be the motif with these filmmakers movies. It will appeal to some much more than it did for me, but I view this in the same way as Super Troopers and Beerfest. Their okay, but in the end there's nothing too special or great going on. It's worth a look if you like the actors and the previous movies from them. If not, stay far away because The Slammin Salmon isn't going to change your mind. In the end, all you need to do is turn your brain off and watch the ridiculousness which is The Slammin Salmon. 
Melvin White
Super Reviewer
Will Forte trampled by a bull right in front of a restaurant? LOLZ. i hate every character as well as every actor in this movie, except for the one who died. the one i hate the most is the fat manager. every manager in movies is either creepy, sexist, or fat. maybe im supposed to hate managers in restaurant movies. well, i hate this one. he is fat.
Coxxie Mild Sauce
Super Reviewer
This movie reminds me a lot of Waiting... although it seems much less mean-spirited, somehow. The plot revolves around the wait staff of a restaurant who are pushed to sell-sell-sell to make up the money thier boss - the ex-heavyweight champ of the boxing world - lost in a bet to the Yakuza. Michael Clarke Duncan is an absolute comedic genius, and brings a playful and somewhat childish menace to Cleon Salmon and his nuanced naivety. But everybody is great in this, and Kevin Heffernan appears to have a great flair for visual composition and colour. The script in this movie is hilarious, and each character is very human as an individual and very believable as part of a team. The actors and thus characters have great rapport with each other. Oh man, this movie is delightful. I don't always strike gold in the cheap movie bins at Blockbusters, but the movie gods did indeed smile upon me.
Emily Armstrong
Super Reviewer
The Slammin' Salmon Quotes