Slap Shot
(1977)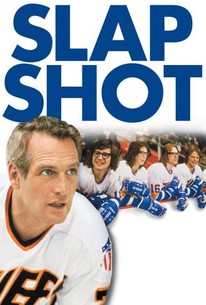 Movie Info
Paul Newman plays Reggie Dunlop, the coach of a pathetic minor-league American hockey team. His career at a standstill and his marriage in tatters, Dunlop has nothing to lose by taking on a new group of players who are one evolutionary step above Neanderthals. Only when the team begins winning does he decide to get behind these players, and to encourage the rest of the team to play as down-and-dirty as the newcomers. Straight-arrow team member Ned Braden (Michael Ontkean) resents this influx of gonzo talent, preferring to play clean. As the film's multitude of subplots play themselves out, Dunlop does his best to keep the outraged Braden on the team. Slap Shot is the sort of film for which the "R" rating was invented: Its nonstop barrage of profanity and its raunchy action sequences are of such intensity that the film will probably never be shown intact on commercial television. ~ Hal Erickson, Rovi
Critic Reviews for Slap Shot
Audience Reviews for Slap Shot
½
A sports movie? Well partially so, but besides being a fun- loving cultural memento of its time Hill's film is a pointed social commentary on the huge insatiable public demand for extravagant sensationalism. The sports part of it hardly registers at all. Newman anchors the proceedings quite nicely and, of course, the dreadnought Hanson Brothers.
Kevin M. Williams
Super Reviewer
Easily as fun as a barrel full of monkeys.
Ken Stachnik
Super Reviewer
½
For me, sports movies are okay. Like all genres, they have their good ones, and their bad ones. Who would have thought that one of the best sports movies is actually an anti-sports movie? This film is this one- a nice little gem from the 70s that really exemplifies the zeitgeist of the era with it's crude language, bloody fighting, and general boorish nasty edge and nature. The plot concerns a washed up veteran hockey and coach (who's not really good at either) who tries to take his awful, struggling minor league team and turn them around into popular winners, which he starts to do once he discovers that the audience reacts positively to goonish behavior. He's a fascinating guy to watch because the skills he lacks as a player and coach are made up for by the fact that he's a skilled con man who is good at manipulating people, especially other players. Their team, the Charlestown Chiefs, is not the only one struggling. Besides looking at sports, the film also touches upon the current events of the time by addressing the dire situation of late 1970s industrial towns in the Northeast. The local mill is on the verge of closing, and, should that happen, the hockey team is likely to go too. This little detail is something I appreciated because it adds more to the film, but also helps cement it as a cultural timepiece, giving insight into what the world was like at that time. So yeah, the film is dated to an extent, and the vulgarity and rawness of things aren't quite as shocking, but I still found the film fresh and eye opening because of the content. This film is undeniably a product of the 70s, and I think it's all the better as a result. The cast are great. Paul Newman reunites with George Roy Hill (this time without Redford) and he is awesome as coach/player Reggie Dunlop. The guy is a mess, but yet, despite his attitude and actions (and the attitudes and actions of his team), you can't help but like these guys and root for them, even though you should feel otherwise. Supporting him are Strother Martin, Michael Ontkean, and tons of actual pro and minor leaguers. Give this one a shot. It's entertaining, funny (though I don't think it was supposed to be a comedy), has wonderful music, and is a great look at the wild side of sports.
Chris Weber
Super Reviewer
Slap Shot Quotes
| | |
| --- | --- |
| Reggie Dunlop: | They brought their fuckin' toys with 'em. |
| | |
| --- | --- |
| Denis Le Mieux: | Joe, who own the Chiefs? |
| Joe McGrath: | Owns! Owns! |
| | |
| --- | --- |
| Denis Le Mieux: | "My h'allergies you know to these fucking fans has returned." |
| Denis Le Mieux: | My h'allergies you know to these fucking fans has returned. |
| | |
| --- | --- |
| Johnny Upton: | "These guys are a fucking disgrace." |
| Johnny Upton: | These guys are a fucking disgrace. |