Slashers
(2001)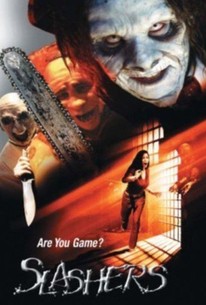 Movie Info
The Japanese TV reality game show "Slashers" pits six contestants against three costumed serial killers in a program that features actual deaths to the contestants as they flee the killers in a vast maze filled with obstacles. The last contestant alive wins a million-dollar jackpot. In this episode, the contestants are six Americans, including Megan (Sarah-Joslyn Crowder), who is using her appearance to protest the inhumanity of the program; Devon (Tony-Curtis Blondell), a former special ops soldier anxious for a big payday; and Brenda (Sofia de Medeiros), a beautiful model who doesn't know what she's gotten into until it's too late. The Slashers are Chainsaw Charlie (Neil Napier), a masked hillbilly with a chainsaw; Dr. Ripper (Christopher Piggins), a maniacal surgeon with oversized shears; and Preacherman (Napier), a Bible-thumping program rookie with a razor-sharp crucifix.
Critic Reviews for Slashers
All Critics (5) | Fresh (1) | Rotten (4) | DVD (3)
Best described as "Survivor" meets The Running Man by way of your local mall's Halloween Adventure Shop, Slashers represents low-grade horror machinations at their most confoundingly stupid.
An instant cult classic
September 22, 2002 | Rating: 4/5
Audience Reviews for Slashers
Welcome motherfuckers. You are now tuned into the bottom of the barrel. Bad acting, bad directing, poor pacing, and so on. I knew something was wrong when at the hour mark there had only been one death and the killers were more interested in removing the ladies tops then killing them, Shame as it actually had a good concept. Not the most original in the world, but good. Basically at this point the only thing that could save this movie was the gore, which was only average at best. An easy movie to skip.
Ed Fucking Harris
Super Reviewer
Watchable but easy forgetable.
A movie about a Japanese game show where contenders have to survive being stalked by insane murderers. Kind of a Running Man meets Friday the 13th. And it's Canadian!
Christopher Brown
Super Reviewer
Slashers Quotes
There are no approved quotes yet for this movie.