The Slaughter Rule
(2002)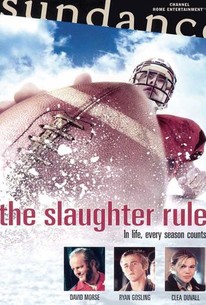 TOMATOMETER
AUDIENCE SCORE
Critic Consensus: A bleak but original indie, The Slaughter Rule benefits from outstanding performances by Ryan Gosling and David Morse.
The Slaughter Rule Photos
Movie Info
A teenager at a personal crossroads finds himself questioning the things that have given his life meaning in this independent coming-of-age drama. Roy Chutney (Ryan Gosling) is a high school senior in a small Montana town. Roy doesn't have an especially close relationship with his mother Evangelline (Kelly Lynch), and he hasn't seen his father in years. That doesn't prevent Roy from feeling emotionally devastated when he learns that his father has killed himself, and Roy's self-esteem takes a beating when he's cut from the high school football team shortly afterward. Roy wiles away his time swilling beer with his best friend, Tracy Two Dogs (Eddie Spears), and falling into a romance with Skyla (Clea Duvall), a barmaid at a local tavern, but it seems Roy's short time on the high school gridiron impressed Gideon Ferguson (David Morse), a local character who coaches a semi-pro six-man football team when he isn't delivering newspapers or trying to score a gig singing country songs at nearby honky-tonks. Gid thinks Roy has potential, and asks him to join his team; encouraged by Gid's belief in him, Roy agrees, and he persuades Tracy to tag along. While playing hardscrabble six-man football helps restore Roy's self-confidence, he finds it doesn't answer his questions about his future or his relationship with Skyla, and when Gid's overwhelming interest in Roy begins to lend credence to the rumors that Gid is gay, Roy starts to wonder just why he was asked to join the team. Jay Farrar, founder of the acclaimed alternative country bands Uncle Tupelo and Son Volt, composed the film's musical score.
Critic Reviews for The Slaughter Rule
Audience Reviews for The Slaughter Rule
[font=Century Gothic]In "The Slaughter Rule", Roy(Ryan Gosling) is not having the best of weeks - his father is killed, then he is cut from his high school football team, apparently for not being angry enough. A coach of an independent six-man football team, Gideon(David Morse) recruits him to his team. There are local whispers as to whether Gideon's interest in Roy is purely professional...while Roy catches the eye of an attractive waitress, Skyla(Clea Duvall).[/font] [font=Century Gothic]"The Slaughter Rule" is a deliberately paced movie that takes full advantage of its unique setting in rural Montana. The beautiful scenery contrasts wonderfully with the hardscrabble lives of the characters. I thought it did a very realistic job of portraying small town life especially for the teenagers. I wish it had made more of a statement concerning masculinity, though. The performances are fine, especially David Morse who finally gets to play a character he can sink his teeth into.[/font] [font=Century Gothic]Note: On Saturday, I saw "Dallas 362" where Kelly Lynch plays a widowed mother. In "The Slaughter Rule", she plays a character who is officially divorced when her ex-husband is killed. Is this a trend or am I really having one of those weeks?[/font]
The Slaughter Rule Quotes
There are no approved quotes yet for this movie.