SLC Punk
(1998)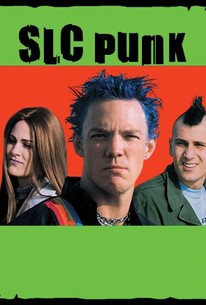 TOMATOMETER
AUDIENCE SCORE
Critic Consensus: Merging anarchic spirit with straightforward melodrama, SLC Punk is a hit-and-miss odyssey of youthful rebellion elevated by Matthew Lillard's dramatically potent star turn.
Movie Info
What's it like being the only punk rockers in the biggest Mormon community in the world? Stevo (Matthew Lillard) and Heroin Bob (Michael Goorjian) provide the answer to this and other questions in SLC Punk. Stevo and Bob (whose name is actually an ironic reference to his fear of needles) are two friends fresh out of college who sport mohawks and blue hair, listen to hardcore and try to live up to their own anarchist ideals while figuring out what to do with their lives. Which wouldn't make them unusual in New York or Los Angeles, but they're fish out of water in Salt Lake City, Utah, where they drink beer, chase women and pick fights with "rednecks" along side a mixed bag of metalheads, hippies, hicks and posers who are fellow outcasts in the most clean-cut community in America. In the midst of all this, Stevo's dad hopes his son will follow in his footsteps and study law at Harvard; while Stevo surprisingly has the grades, he's not sure if he wants to go. Featuring a soundtrack of mid-80's punk from The Ramones, Minor Threat, The Dead Kennedys and others, SLC Punk was chosen as the opening-night feature at the 1999 Sundance Film Festival.
Critic Reviews for SLC Punk
Audience Reviews for SLC Punk
½
A furiously paced, unabashed, raw story of two best friends (Matthew Lillard, Michael Goorjian) who choose not to conform to the boring, conservative lifestyle that inhabits their hometown of Salt Lake City, instead opting for a life of punk-filled adventures and acts of violence against the system. DIrector/writer James Merendino's screenplay is loaded with vicious assaults against the norms of society, and he backs it up considerably well with "Fight Club"-esque cutaways full of such enthusiasm from his lead star. Lillard's energy and infectious spirit is completely believable and a breath of fresh air, as he fully takes this movie upon his shoulders and makes it his own, which is surprising when you consider how far he has flown under the radar ever since the release of this film. Although it has some occasional terrible acting (mostly from supporting characters) and it does not utilize its location as well as it could have, it still remains a minor-"Fight Club" entry that has some interesting ideas and some devilish humor thrown in for good measure that keeps it clicking effortlessly.
Dan Schultz
Super Reviewer
½
The film is an anthem to punks, to hipsters, to all young rebels, and ultimately concludes that it's not a lifestyle, but merely a naïve phase. But does writer/director Merendino look to extol the demerits of youthful rebellion? Hardly. "SLC Punk!", more than anything, is a coming-of-age film, and Matthew Lillard's portrayal of his interesting character is quite good. For all the hype and emphasis the film puts on its conservative setting, Salt Lake City, though, there's virtually no local flair about the film. Oh well. It's not an easy film to put into words, but it sure is fun to watch.
Jay Hutchinson
Super Reviewer
Finally, a punk film that doesn't only just have the old sex & drugs representation, but a wide variety of what life can be like, depending on your crowd. As Stevo (Matthew Lillard), a hidden brain who has been accepted to Harvard law school, spends all his time forcing himself to stay out of school while he and his punk friends screw around with their town and it's people as his family and friends all have their own problems as time passes by. "SLC Punk" forcefully proves that punks are bad news, but I thoroughly appreciated the realism of their feelings behind the scenes as they direct their emotions towards the camera. I do think they could have added a bit more character development, but overall this movie is just a great time, that surprisingly pulled on my heart-strings. This film is great!
SLC Punk Quotes
| | |
| --- | --- |
| Sandy: | ...beauty is the end Stevo, the end... |
| Sandy: | Beauty is the end Stevo, the end... |
| | |
| --- | --- |
| Stevo: | In a country of lost souls, rebellion comes hard. But...in a religiously opressive city, with half its population isn't even of that religion...(rebellion) it comes like fire! |