Sleep Dealer
(2009)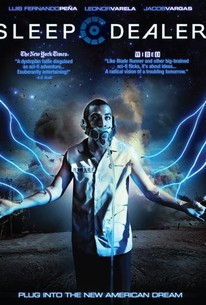 Movie Info
Mexico. The near future. Memo Cruz has always dreamed of leaving his tiny village and heading north. But, when he is ultimately forced to leave, Memo finds a future so bizarre--border walls, shantytowns, hi-tech factories, remote control drones and aqua-terrorists--that it looks a lot like today.
News & Interviews for Sleep Dealer
Critic Reviews for Sleep Dealer
Audience Reviews for Sleep Dealer
Sleep Dealer is underwhelming if one reads some of the reviews posted about it. The filmmaking is amateurish and some of the effects are poor. Still, the film succeeds because it shows heart and spirit, and that is a refreshing change from most Hollywood fare. The actors act as though they believe that the technology and the world is real.
Robert Brogan
Super Reviewer
Other than a few cheesy special effects... this was a really good story about a guy willing to really do all he can to help his family and a stranger willing to try correct an injustice. It is a future I can see becoming a reality and I hope their are still people with good hearts in a jaded day.
Thomas Johnston
Super Reviewer
½
[font=Century Gothic]In "Sleep Dealer," Memo(Luis Fernando Pena) lives in an arid section of Mexico where he and his father(Jose Concepcion Macias) have to now pay for water which was once free for the taking because of a new dam built by a multinational corporation. In his spare time, Memo is an amateur hacker and accidentally accesses a military channel which brings down the wrath of the military and reality television, and his father is killed by a remotely controlled military drone. Having no reason to stay, he travels to Tijuana to seek his fortune. Along the way, he meets Luz(Leonor Varela), a writer, who sells her memories on line through a series of nodes installed on her body. The nodes also allow for workers to work remotely from Tijuana since the border was closed, projecting themselves into other countries.[/font] [font=Century Gothic][/font] [font=Century Gothic]Set in a remarkably familiar-looking near future, "Sleep Dealer" is an intelligent allegory about the modern world, focusing on themes of globalization and the war on error. This is what science fiction should be about, more ideas than just the empty spectacles we will be subjected in weeks to come. It just goes to prove that what happens in plain sight can be scarier than any grand conspiracy we can ever dream up. Regrettably, the ending is a little too predictable and audience pleasing, though. [/font]
Sleep Dealer Quotes
There are no approved quotes yet for this movie.