Sleepaway Camp III: Teenage Wasteland
(1989)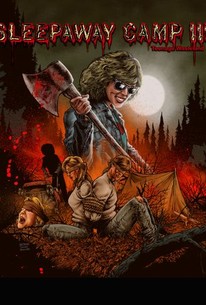 Sleepaway Camp III: Teenage Wasteland Photos
Movie Info
Angela (Pamela Springsteen), the murderous camp counselor of Sleepaway Camp 2, returns to the scene of her crimes in this no-frills installment. Assuming a camper's identity (after mowing her down with a Mack truck), Angela arrives at Camp Rolling Hills, which was purchased and renamed "New Horizons" after her last killing spree. Husband and wife entreprenurs Herman and Lily (Michael J. Pollard and Sandra Dorsey) have reopened it as an "experiment in sharing" to bring street-smart disadvantaged kids together with snobby rich brats. Splitting up into three groups of culturally mixed teens, they go off into the woods for a camping trip designed to break down barriers. Instead, Angela finds a myriad of reasons to off her fellow campers (thanks to their constant bad behavior), and gets the job done with axes, tent spikes, a lawnmower, and firecrackers up the nose. Even the presence of an off-duty police officer (Cliff Brand), who is familar with Angela's crimes, doesn't deter her from slaughtering everyone for the merest provocation.
Critic Reviews for Sleepaway Camp III: Teenage Wasteland
Audience Reviews for Sleepaway Camp III: Teenage Wasteland
½
So the Sleepaway Camp series continues with the third installment: Teenage Wasteland. Angela's back in camp under an assumed identity to mutilate more terrible teenagers. I love that this series has "camp" in the title because that's exactly what it is. Angela is just as bad as Freddy making bad puns after each kill. I haven't really cared for the series so far, but this is marginally more enjoyable than the rest. It's still campy as hell with weak death scenes but probably funnier than the first two.
Tim Salmons
Super Reviewer
½
The worst of the series, this camp movie is entirely routine and lame. It's not worth seeing, just watch the first two.
The third instalment in the "Sleepaway Camp" series is terrific fun, featuring another strong performance by Pamela Springsteen. It's a great shame that Springsteen decided to follow a career in photography as I would have welcomed further movies from this actress. "Sleepaway Camp III: Teenage Wasteland" is comic horror; the bloodshed is played for laughs but there are some effective scenes. While I'm a fan of the "Friday the 13th" films, I actually find the straight-to-video thrills of Angela more entertaining. The always-fantastic Michael J. Pollard is suitably seedy as the counsellor with a penchant for young girls. This is an entertaining straight-to-video horror flick that moves at a good pace and features strong performances from all involved. With some snappy one-liners, a dark sense of humour and some amusing scenes, this is a recommended genre film.
Cassandra Maples
Super Reviewer
Sleepaway Camp III: Teenage Wasteland Quotes
| | |
| --- | --- |
| Angela: | It seems every year i'm at camp someone loses their head. |
| Angela: | It seems every year I'm at camp someone loses their head. |