Sleeper
(1973)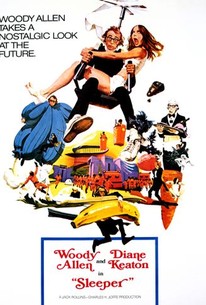 Movie Info
In 1973, health-food store owner Miles Monroe (Woody Allen) enters the hospital for a routine gall bladder operation. When he expires on the operating table, Miles' sister requests permission to cryogenically freeze her brother's body. After 200 years, Miles is unwrapped by a group of scientists and awakens to a "brave new world" of deadening conformity, ruled with an iron fist by a never-seen leader. Miles is forced to flee for his life when the scientists -- actually a group of revolutionary activists -- are overpowered by the leader's police. He eludes the cops by pretending to be an android, and in this guise is sent to work at the home of Luna (Diane Keaton), a composer of greeting cards who thinks that the world of the future is perfect as it stands. There's more, but why spoil your fun? Sleeper is the most visual of Woody Allen's earlier films, and demonstrated a more pronounced rapport between Allen and his off- and onscreen leading lady Diane Keaton than had previously existed. The Dixieland score is performed by the Preservation Hall Jazz Band.
News & Interviews for Sleeper
Critic Reviews for Sleeper
Audience Reviews for Sleeper
like many of allen's early films, sleeper is great for the first hour, tons of laughs and very clever, but it looses a lot of steam at the end. allen was clearly honing his craft, but the film had a great concept, and but for the invention of the internet it could have proven quite clever with time. all around solid comedy.
½
Half side-splittingly funny, half pretty stupid Woody Allen film concerning a man who awakens after a 200 year coma, and finds out he is wanted by the authorities due to his awakening, forcing him to go on the run. This is obviously Allen doing his best Charlie Chaplin impression, and he's definitely not bad at it. This movie flies by pretty quickly, and the usual romance between Allen and Diane Keaton is well handled. The whole story is absolutely silly, but it is still a very entertaining film for the most part, one that is just occasionally bogged down by a few dumb parts that probably should have been cut out. Still, at only 85 minutes or so, it's definitely worth a view if you are a fan of Allen's work.
Dan Schultz
Super Reviewer
One of the simple instances of Woody Allen making comedies that are grounded in comedy, and not surrealism or human dysfunction. There is just simple ease to this film, flowing from one thing to the next. It's grounded in the same neurotic toils that many of Allen's films are and were, but there is something so decidedly human, sweet, and existential about this film, which makes it a critical and cultural darling. Not only does that film conjure many riveting images, but also makes its mark in genres such as dystopian societies, doomed love affairs, and the always popular Allen sub-genre of comedy. It never slows, always pops with its references and originality, and even mimics slapstick and vaudevillian comedy. I loved that the dystopian aspect of it wasn't played up too seriously, while also drawing humor from the inadequacies of life, and ultimately satirizing common day (which was the nineteen seventies at that point.) It made me laugh all the way through, it had a sweetened love story between Woody Allen and Diane Keaton's characters, and it decided to lay low until the initial laugh, which was always a surprise. I loved the setting, the choices in fumbling villains and overwrought pains of the protagonist. The throwbacks to eras of comedy, and the origins of the director, were subtle yet precocious, and ultimately it's a film that will resonate with many generations not just for its nostalgia but its crisp examination of society and the happiness it brings to be alive.
Spencer S.
Super Reviewer
Sleeper Quotes
| | |
| --- | --- |
| Luna: | Why is it I never understand what you're saying? |
| | |
| --- | --- |
| Miles Monroe: | Do I believe in God? I'm what you call a teleological, existential atheist. I believe there's an intelligence in the universe, with the exception of certain parts of New Jersey. |
| | |
| --- | --- |
| Miles Monroe: | Sex and death. Two things that come once in my lifetime. But at least after death your not nauseous. |
| | |
| --- | --- |
| Miles Monroe: | What does it feel like to be dead 200 years? Like spending a weekend in Beverly Hills. |