Stephen King's 'Sleepwalkers'
(1992)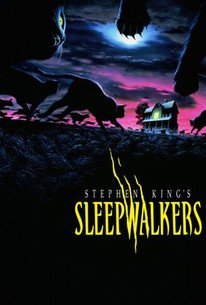 Stephen King's 'Sleepwalkers' Photos
Movie Info
A shapeshifting, cat-fearing mother and son move to a new town and must feed on young virgin women to survive. They set their sights on Tanya Robertson, the son's attractive classmate.
Critic Reviews for Stephen King's 'Sleepwalkers'
Audience Reviews for Stephen King's 'Sleepwalkers'
Realised 10 minutes in I have seen this before and forgotten it. Then half hour later I realised why and switched it off. Just not very good. And this from someone who gets on YouTube and actually seeks out made for tv thrillers.
Nicki Marie
Super Reviewer
½
Sleepwalkers is a borderline average Stephen King horror film about shape shifting vampires. The film is fairly cheesy with average acting and doesn't try to do anything effective, new or thoroughly original. The film feels lazy and there is a sense that it could have been done much better. The idea explored in Sleepwalkers is interesting, and it could have been something truly terrific, but King doesn't try to make it interesting enough to blow you away. The ideas feel like they're scrapping the bottom of the barrel and there isn't really anything going on here thats really exciting. The film is cheesy fun, but it never goes beyond anything spectacular, good or truly original. Sleepwalkers has moderate chills, but considering that this was written by Stephen King, you'd expect something better, right? Well, the result with Sleepwalkers is a film that is entertaining and fun, but lacks the fire to make it truly an exciting and memorable horror film. Sleepwalkers is worth watching, but keep your hopes at a low to medium level so you don't disappointed. The premise of the film is interesting, but Stephen King could have done a few rewrites of the script before turning it in. The film feels like it was a filmed using a first draft of script. Sleepwalkers is a moderately fun film, but nothing to really write home about.
½
A strange, unsettling vampiric type family horror story from Stephen King, it's really different, and I really liked it. I'd like to see it again before I write anymore about it, though, I saw it a long time ago.
Stephen King's 'Sleepwalkers' Quotes
| | |
| --- | --- |
| Mary Brady: | You killed my son! My only son! |
| | |
| --- | --- |
| Charles Brady: | Stop looking at me. Stop looking at me, you fucking cat! |