Slender Man
(2018)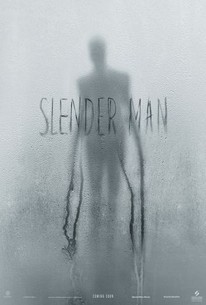 TOMATOMETER
AUDIENCE SCORE
Critic Consensus: Slender Man might be thin, but he's positively robust compared to the flimsy assortment of scares generated by the would-be chiller that bears his name.
Movie Info
In a small town in Massachusetts, a group of friends, fascinated by the internet lore of the Slender Man, attempt to prove that he doesn't actually exist... until one of them mysteriously goes missing.
Critic Reviews for Slender Man
Audience Reviews for Slender Man
"He gets in your head like a virus." "What kind of virus?" "Like a computer virus that infects your hard drive, but instead of your hard drive it's your brain!" Technically speaking, this might not fully qualify as a movie. It's certainly a recording of actors talking and moving, but Slender Man lacks any pretense of artistic expression. Also, it somehow fails to meet even the criteria of a film genre that has already relegated itself to lower than substandard expectations. Month by month we see shitty jump-scare horrors all as indistinguishable from one to the next, promising some transient thrills with boring, boring, BANG dynamics. Yet it not only fails to tell a compelling story in any regard to its ill-timed and criminally (literally) insensitive boogieman, but it also fails to deliver in the already lazy formula it is reliant upon. It's an utter waste of scream queen Annalise Basso who goes missing within the first 15 minutes despite her being the actress with the most credentials. Joey King of The Kissing Booth takes center stage and does her best (which isn't all that great) with the anachronistic dialogue written by a 50 year old man trying his best to capture the spirit of high school aged girls.
K Nife Churchkey
Super Reviewer
½
Okay. Who cut the scene where our "heroes" seek out Vincent D'Onofrio and listen to him give an exposition dump? I ask because that's literally the only "Horror Movie 101" trope this doesn't ape.
Philip Price
Super Reviewer
Slender Man Quotes
There are no approved quotes yet for this movie.