Slumber Party Massacre II
(1987)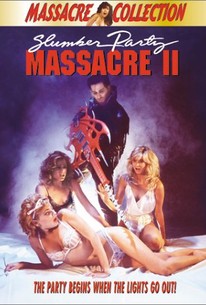 AUDIENCE SCORE
Critic Consensus: No consensus yet.
Slumber Party Massacre II Photos
Movie Info
In this horror sequel, the members of a female rock group set off to spend the weekend in a deserted condominium. However, when Courtney's (Crystal Bernard) dreams of a drill-wielding, murderous rock singer (Atanas Illitch) prove to be more than mere nightmares, the girls must struggle to survive their weekend getaway.
Audience Reviews for Slumber Party Massacre II
A horrible movie, not a horror movie. The story makes no sense, the killer breaks into song and dance in the middle of his rampage, the special effects are poor, the acting and dialogue is atrocious. If you like these bad late 80s movies, check it out, if not, stay away from it. The ending is the worst part.
Jim Careter
Super Reviewer
½
Unfortunately this sequel to the impressive 1982 The Slumber Party Massacre is really an incompetent mess of a film. There's so much wrong with this film. The idea of an evil rocker killing his victims with a drill shaped like a guitar was cool and interesting. I liked that aspect of the film. That was the most fun of the film, really. But where the film lacks is in its substance. Yeah, I know what can you do with a character that's an evil rocker? There are tons of great ideas. The filmmakers on the on the other decided to cut corners and skip the killer's back story. The reason the film fails is because there's nothing interesting happening in the first 45 minutes, and that's when the "actual" killing starts. The film almost becomes a snooze fest and makes the viewer uninterested and quite frankly, you really don't care what happens. It really does suck because there are some great ideas at work here, but like I previously stated, the filmmakers don't give the viewer an explanation. Now if the killer had committed suicide with a power drill and come back reincarnated to murder his victims with a drill that would've been a nice little idea for the film. The only person that makes this film semi entertaining is Atanas Illitch as the killer. His performance was what prevented me from falling asleep. This sequel is disappointing and the worst thing is, is that they could've done so many great things with the "evil rocker" idea. The worst of the series, luckily the third one is far better
Slumber Party Massacre II Quotes
There are no approved quotes yet for this movie.