Slumdog Millionaire
(2008)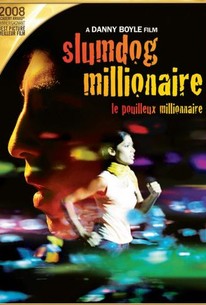 Slumdog Millionaire Videos
Slumdog Millionaire Photos
Movie Info
Jamal Malik, an 18 year-old orphan from the slums of Mumbai, is about to experience the biggest day of his life. With the whole nation watching, he is just one question away from winning a staggering 20-million rupees on India's "Who Wants To Be A Millionaire?" But when the show breaks for the night, police arrest him on suspicion of cheating; how could a street kid know so much? Desperate to prove his innocence, Jamal tells the story of his life in the slum where he and his brother grew up, of their adventures together on the road, of vicious encounters with local gangs, and of Latika, the girl he loved and lost. Each chapter of his story reveals the key to the answer to one of the game show's questions. Intrigued by Jamal's story, the jaded police inspector begins to wonder what a young man with no apparent desire for riches is really doing on this game show? When the new day dawns and Jamal returns to answer the final question, the inspector and 60 million viewers are about to find out.
Critic Reviews for Slumdog Millionaire
Audience Reviews for Slumdog Millionaire
Gorgeous cinematography and editing, but terribly weak story. It's not that I'm against optimistic, uplifting movies, but there needs to be proper development and higher stakes than just "star-crossed love." Why does Salim suddenly let Latika go after remorselessly kidnapping her days ago? Where is his moral and fraternal turning point? What is the point of the frame story of the torturing producers? There is no pay off for that; it is merely a device to reveal Jamal's past. What is the consequence of the gangsters' cruelty to Latika? She isn't horribly disfigured or hurt. Would Jamal still love her if she is? Will their love still transcend such superficialities? I have a problem with destiny-driven plots. It's an easy cop-out. I really wanted to like this film because it's pretty much everyone's favorite movie ever, but I find it incredibly overrated.
Alice Shen
Super Reviewer
A exhausting thrill ride with relentless ups and downs. A sweet and dramatic movie that felt like something was missing?
Film Crazy
Super Reviewer
I tend to enjoy dark movies because the emotional reaction is greater for me than that of "happier" movies, for lack of a better word. Slumdog Millionaire, however, makes a powerful case for "happy" movies. Slumdog Millionaire is a wholly life-fulfilling epic about destiny and love that is expertly directed and colorfully shot. And when the film cuts rapidly in a hazy stop-motion-like effect, and the color from the streets reflects on our fated protagonists, and the music kicks in overwhelmingly, its hard not to leave with a smile on your face- and tears in your eyes.
Nikhil Nandu
Super Reviewer
Slumdog Millionaire Quotes
| | |
| --- | --- |
| Salim Malik: | God is great! (final words) |
| Salim Malik: | God is great! |
| | |
| --- | --- |
| Jamal Malik (older): | There was no message! There was no message! There was no massage! |
| | |
| --- | --- |
| Jamal Malik (older): | I went on, because I knew she'd be watching. |
| | |
| --- | --- |
| Jamal Malik (older): | If it wasn't for Rama and Allah, I'd still have a mother. |