Small Apartments
(2013)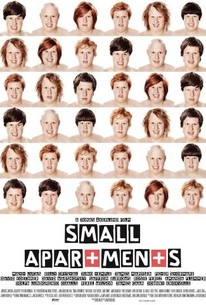 Movie Info
Franklin Franklin plays the alphorn and dreams of Switzerland. His crazy brother sends him fingernail clippings in the mail. One of his neighbors is a forgetful pot-head, the other a gruff busybody who doesn't miss anything. Across the street live a mother and her fifteen-year-old daughter, whom he likes to watch from his window, but none of these are Franklin's real problem. His real problem is that his landlord is dead, laid out on the linoleum of his kitchen, and Switzerland seems farther away all the time. (c) Official site
Critic Reviews for Small Apartments
Audience Reviews for Small Apartments
½
I don't usually review movies after I finish watching them unless it's one of two cases. One of those cases is that the movie is so awful that I have to write the review almost immediately after the fact to cleanse myself of the awfulness. Another one of those cases would have to be when I loved a movie so much that I want to rave about it to no end and, hopefully, convince a couple of people to give the flick in question a shot. Don't get me wrong, this movie wouldn't fit into any two of those cases, but if I had reviewed the movie right after finishing it, I would have given this movie three stars. I came out of this movie with a relatively positive reception towards it. I wouldn't have said that it was great or anything of the sort, because it's not a great movie, but there was enough of it that I enjoyed that I felt comfortable giving it that rating. But now, almost a day after finishing the movie, I'm realizing that this flick, while having exactly the same flaws as I did when I finished watching it, isn't as good as I had first thought. Again, there's nothing different, I didn't gain any new insights. I just saw the movie for what it was, a slightly above average movie, that doesn't really have an actual story to speak of. I suppose there's the basic gist of Franklin Franklin (yes, that's his first and last name) having the corpse of his landlord in his kitchen and his attempts to dispose of it. But that doesn't really even carry the movie, since that's, realistically speaking, not even a major part of the narrative. It plays a part of it, for sure, but it's just used as a plot device really. It's just a way to move what little narrative this film has forward. I think the film is much more about Franklin's relationship with his brother, Bernard, who voluntarily checked himself in to a psych ward after a mental breakdown. He suffered a mental breakdown as a result of reading this series of books from a self-help author who's helping you train your brain to be 'physically fit'. Bernard read this series of books and it never really had the answer to his problem, so he lost it. It turns out, however, that Bernard was not 'crazy', he just had a brain tumor (that he died from) the size of a racquetball. This is what was causing him the headaches and is what led him to believe that his brain was physically unfit enough that he felt the self-help books were his best option. You really don't even get to see Franklin and Bernard together that much, and even then it's only through flashbacks, but their relationship is the strongest part of the movie, I felt. I think it highlights the lengths one person will go to protect their sibling and how far they'd go to making sure they can get out of the shitty situation they're in. But the problem with this movie is that, instead of focusing on that for the majority of it, they're distracted with several of the other eccentric neighbors and their own little stories. There's not a problem with that if the film was meant to be sort like a Crash type, where several different characters and their stories converge together. But the movie isn't that way. Tommy's fate (or Mr. Allspice's) don't really play any part into any of the major proceedings in Franklin's life. Though it does lead to one of the funnier recurring jokes. Burt, Billy Crystal's character, informs people of their death by fire or suicide or whatever. The person usually reacts by asking 'are they ok?' before Burt replies, as calmly as possible, 'no, they're dead'. It sounds silly typing it out this way, but it actually works in the film. The characters are certainly weird and I think they were purposely weird, to add a bit of flavor to the film. And I get that, but it's a bit forceful. Like they're weird just to add a quirkier aspect to the film. I wouldn't have a problem with this approach if the film benefited from it or if it actually made sense within the context. I guess there's worse movies, because a seedy LA apartment? You bet your ass there's gonna be some strange folk in those apartments. I still just felt that the characters' weirdness was a little forceful. I suppose it was better than the alternative of actually writing good characters. That probably sounds harsher than I meant it to be. Generally, I liked the film's characters, but there's no denying that they could have been better written. The cast is quite strong, so no complaints on that front whatsoever. The dialogue is decent, but again, the narrative could have been far more focused. It's just an above average movie. I can't exactly recommend it, but this isn't bad in the slightest. It just misses the mark a bit. Could have been worse, but there's better movies out there that deserve your time.
Jesse Ortega
Super Reviewer
MisterYoda ?
Super Reviewer
Small Apartments Quotes
There are no approved quotes yet for this movie.