Small Town Saturday Night
(2010)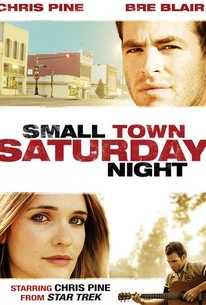 AUDIENCE SCORE
Critic Consensus: No consensus yet.
Small Town Saturday Night Photos
Movie Info
Just days before leaving for Nashville, Rhett Ryan discovers that the desire to follow his dream conflicts with his desire to be with the woman he loves. While Samantha does love the singer-songwriter, she starts to realize what's best for her daughter and their future may not be what's best for him. Tommy Carson works around the clock to keep the peace in Prospect, but Donny, who is on a downward spiral, makes this even more difficult for the deputy. And Les just wants to fit in with his big brother's friends, but his overbearing mother desperately wants him to stand out. The subtle interconnections of these character's lives will bring them all closer together, culminating in Rhett's final performance.
Critic Reviews for Small Town Saturday Night
There are no critic reviews yet for Small Town Saturday Night. Keep checking Rotten Tomatoes for updates!
Audience Reviews for Small Town Saturday Night
This was really boring and pointless. I didn't get anything new out of watching this.
Erin Collins
Super Reviewer
Directed and written by Ryan Craig, Perfect Weekend, 2010. Starring: Chris Pine, Shawn Christian, John Hawkes, Bre Blair, Octavia Spencer, and Lin Shaye. Genre: Drama Question: What draws you to watch a specific movie? Could it be the director, a certain genre or story-line or is it an actor and their skill, perhaps? For me it ranges, but I do have some standards: a recommendation by someone, seeing a good, or even a bad, review makes me consider watching it and then sometimes it is the poster. I did study art history and a visually appealing film poster can really catch my interest. Today I watched an indie film called, Small Town Saturday Night. Why did I choose to watch this one today? Honestly, I have seen a lot of Chris Pine's movies and he has proved his acting chops to me....okay, okay... I will admit one of the reasons I had it in my Netflix instant playlist was for Chris Pine and those eyes. Plus, this wasn't a horror or sadistic story-line (my last two reviews). Small Town Saturday Night is about a country singer (Chris Pine), who lives in a small town and is about to move to Nashville. Actually, it sounded relaxing and it was an indie film - something I love to support especially after seeing this was made after Chris Pine's smash hit Star Trek. That scores points in my book. Unfortunately, this film just did not deliver a huge surprise as many of the other independent movies that I have stumbled upon on Netflix. It kept my interest but the story was...how do I put this...uneventful. The story takes place over one day in a small town called Prospect. I kind of thought it would take place at night but not until the very end does the sun takes its rest. Anyway, it showed a slice of American life, which some may get and some may not. Rhett Ryan (Chris Pine) has one more day at the gas station before his final gig at the local bar before him and his girlfriend (Bre Blair) and her daughter make the big move. Then you are introduced to other locals in the town - specifically the local deputy (Shawn Christian), the ex-husband of Rhett Ryan's girlfriend, who waits for his brother, Donnie (John Hawkes) coming home from his stint in prison. For the next hour or so you witness Donnie, Rhett, Donnie's brother and father and countless others interact. Sometimes it made for a cohesive story and sometimes it didn't. If you have ever lived in a small town, I assumed this would show a fairly typical summer day but I kept waiting for more. Did I get it? More, I mean. Well, there were a couple of semi-intense scenes with one scene where Rhett (Chris Pine) and his girlfriend have an intense conversation. However, by that point, I had lost my patience with the story but trudged on. One more scene with Donnie (John Hawkes) finally got the blood pumping in this tale but ended with no fanfare. My guess is that Small Town Saturday Night was going for realism and it delivered. I am just not sure it was a reality that interested me. Oh well. One small little surprise did happen. Not with the story but there was a scene between Rhett and his father and I kept thinking, "WOW, they really do look alike - great casting." So I looked it up. It was a real father and son. Don't ask me why, but I enjoy knowing small trivial things like this; and if you look up Chris Pine's father you will know him. You may not know his name but you will recognize him. I am pretty sure. So do I recommend Small Town Saturday Night? Maybe. It really depends what you are in the mood for, I suppose. But if you want to see Chris Pine strumming a guitar and actually singing, check it out. My favorite part: Chris Pine playing guitar. My least favorite part: One scene where you witness neglected and abused children playing in a front yard. Rating: R Length: 94 minutes Review: 4 out of 10 P.S. If you want to see an indie film that is really good that stars Chris Pine, might I recommend Bottle Shock? Great film.
Tired of Previews
Super Reviewer
½
Extremely low budget and unsuccessful attempt at cashing in on the ensemble drama popularity. As it is advertised, the only reason to even see this is because of Chris Pine. He towers above everyone else and somehow manages to give a really honest performance. The rest of this is just a combination of American Pie and Crash. As silly as that might sound, it's even sillier when you see it for yourself. I just feel bad for these movies that feel the need to be extremely quirky, use hand-held cameras and deal with more characters than they can handle.
Conner Rainwater
Super Reviewer
Small Town Saturday Night Quotes
There are no approved quotes yet for this movie.