Smashing Time
(1967)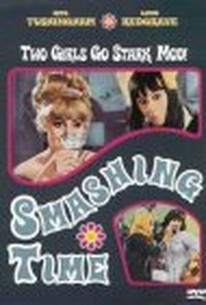 Movie Info
Smashing Time attempts to turn British actresses Rita Tushingham and Lynn Redgrave into a female Laurel and Hardy. The film's second mistake is to prolong the joke for 96 minutes. Tushingham and Redgrave play a couple of dimwitted North Country girls who head to London, in hopes of breaking into the mad, mod world of fashion modeling. Instead they spend most of their screen time getting in each other's way and wreaking havoc on innocent pedestrians. The comic "highlight" of Smashing Time is supposed to be a mammoth pie fight; but outside of one cute throwaway gag involving a street minister, the sequence makes one wish, in the words of Laurel and Hardy buff Leonard Maltin, that Smashing Time "had been handled by someone other than [director] Desmond Davis." ~ Hal Erickson, Rovi
Critic Reviews for Smashing Time
All Critics (7) | Top Critics (3) | Fresh (7) | Rotten (0) | DVD (2)
Although the attempt to cover swinging London quickly becomes tiresome, there are several scenes so funny that they redeem the movie.

But most of this the film is a delight, especially scenes revolving around Yvonne's continual abuse of Brenda.
January 1, 2000 | Rating: 75/100

It's on beat and offbeat, a Mod film that makes the most of the Mack Sennett tradition, a satire on swinging London that swings to its own London rhythm.
Audience Reviews for Smashing Time
"Smashing Time" is a mediocre movie, but it's lots of fun. Not exactly subtle, this British comedy is full of broad, farcical performances and actually has two -- two! -- major food-fight scenes. Is that a first? Yvonne (Lynn Redgrave) and Brenda (Rita Tushingham) have a ball as two daft birds visiting the big city, determined to become all the rage with the swinging Carnaby Street crowd. Yvonne is loud and ditzy, while Brenda is mousy and vulnerable. They flip through a few menial jobs, making a spectacular mess of whatever situation they enter, while also tangling with a cheeky tabloid photographer (the young Michael York). Eventually they stumble into show business via unlikely paths, which motivates one hilarious recording-session scene where every gimmick of the day (sitar, harp, girlie backup vocals) is awkwardly thrown into the mix. The other standout set pieces are a trendy art-gallery opening (booby-trapped robots are sold to people who want to feel nuclear paranoia at home) and a misfired bedroom seduction where a sleazy bounder (Ian Carmichael) puts the moves on Yvonne (too bad that a laxative joke doesn't pay off like it should). Slapstick humor is everywhere (the laundry bills must have been incredible), and the actors exaggerate every gesture, expression and regional accent. The psychedelic band Tomorrow (featuring a pre-Yes Steve Howe) has a small, non-musical role, and the score also includes several sweet songs that Redgrave and Tushingham warble themselves. This is definitely a period piece, but don't expect too much and you'll enjoy some silly laughs.
Eric Broome
Super Reviewer
Ok, this is very silly and wacky yet I found myself really liking it! This is a great satire on Swinging 60s London. Lynn Redgrave and Rita Tushingham play two girls from the North of England determined to make it big in swinging London. What follows is a series of crazy situations as the unlikely pair do find fame only to realize it's not really worth it. This film is so kitsch, with songs to match ("I can't sing but I'm young!"). If you love 60s style then your bound to like this, but this is not one to be taken seriously and overall is just a fun piece of nostalgia.
Smashing Time Quotes
There are no approved quotes yet for this movie.