The Smiling Lieutenant
(1931)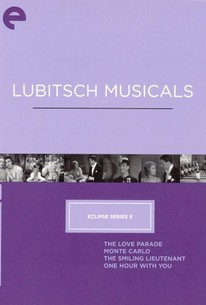 Movie Info
When the romantically unappealing princess of his homeland takes a shine to him, a loyal Viennese officer obediently marries her, finding her quite lovable once his own charming mistress instructs her in the arts of femininity. This rarely shown but delightful Lubitschian film features the always-courtly Maurice Chevalier.
Critic Reviews for The Smiling Lieutenant
Audience Reviews for The Smiling Lieutenant
I'll be honest, Claudette Colbert is very cute and she made this movie for me. The plot has a somewhat dippy Maurice Chevalier marrying a Princess (Miriam Hopkins) to avoid an international incident, thus breaking his lover's (Colbert's) heart. When she arranges to meet up with him anyway, she's caught by Hopkins, and after a mutual, (hilariously overwrought) cry, she tells Hopkins (in song) that in order to keep Chevalier, "Jazz Up Your Lingerie". The movie is pre-Code which made scenes like that possible, as well as allude to unmarried sex between Colbert and Chevalier, and Hopkins's desire to consummate her marriage. This naughtiness is also part of the movie's charm. It's interesting that the movie wrong-foots us by having the 'wrong girl' get the man. A big hit in 1931 and nominated by the Academy for Best Picture, it's still very watchable 85 years later.
Antonius Block
Super Reviewer
I absolutely love Chevalier pictures. They are tremendously silly but they have a riske element to them that is delightful. Colbert and Chevalier have fantastic chemistry.
John Ballantine
Super Reviewer
I really enjoyed this movie, it was hilarious. Sure, it's got a pretty normal romance going on, but it is one of those comedies with a lot of mistakes that turn out very funny. The cast is great too, I loved Chevalier and Colbert and Hopkins together as the love triangle. If you like them or just enjoy romantic comedies, I recommend this.
The Smiling Lieutenant Quotes
There are no approved quotes yet for this movie.