Smilla's Sense of Snow
(1997)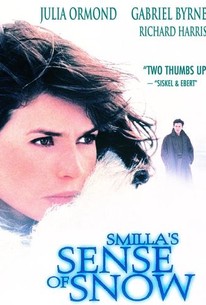 Smilla's Sense of Snow Photos
Movie Info
Set in Copenhagen, this mystery thriller features mixed-blood Inuit Smilla, who has an uncanny sense for different kinds of snow. After visiting the scene where a boy plummeted to his death, she examines the snow and learns that it may not be an accident after all.
Critic Reviews for Smilla's Sense of Snow
Audience Reviews for Smilla's Sense of Snow
If it bothers you when you like a song and don't know all the words to, this is not a movie for you. If you don't mind humming your way through the verses to get to the refrain you'll probably like this movie. I love this movie even with its abrupt transitions and so-so plot. Personal bias, yes, Julia Ormond is gorgeous, but the role plays to her strengths. She is a kept well off by here Anglo father which she resents and tries to keep to her mothers Inuit roots. Unlike Legends of the fall, First Knight and some what Sabrina, she is cast as an active participant in her life and it works. At a cursory review it's a Nancy Drew mystery grown up, but Its really more about her relationship to the boy who dies and how that pans out across the mystery which is her own self perception. I couldn't be a spoiler if I wanted to I can't remember what was under the ice, but it's not really important in the scheme of the movie
Bill Cavros
Super Reviewer
The Best Movie I have seen for the Month of March, ranks as an all time high. Smilla is a star. The suspense will keep you on the edge of your chair. I can't believe that this film didn't get more awards, its a sleeper. Other then the Berlin International Film Festival I don't think it showed up anywhere else. The young boy played a good part. A must see must add to any collection, starts in Greenland then to Denmark, my type of film, one that shows anything but America. 5 Stars. Thank you.
Bruce Bruce
Super Reviewer
Smilla's Sense of Snow Quotes
| | |
| --- | --- |
| Tork: | For people with resources, the right events happen. They may look like coincidences but they arise out of necessity. |
| | |
| --- | --- |
| Smilla Jasperson: | Mathematics is a vast open landscape. You head towards the horizon. It is always receding, like Greenland. And that''s what i can't live without. That's why I can't be locked up. |
| Smilla Jasperson: | Mathematics is a vast open landscape. You head towards the horizon. It is always receding, like Greenland. And that's what i can't live without. That's why I can't be locked up. |
| | |
| --- | --- |
| Smilla Jasperson: | I'm sorry if I've given you the impression it's my mouth that's rough. I try to be rough all over. |
| | |
| --- | --- |
| Smilla Jasperson: | The way you have a sense of God, I have a sense of snow. |