Smokin' Aces 2: Assassin's Ball
(2010)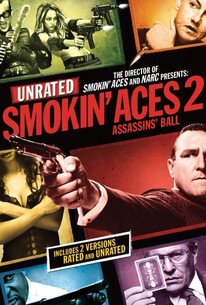 Smokin' Aces 2: Assassin's Ball Photos
Movie Info
The world's most resourceful assassins target an FBI desk jockey in this action-packed prequel. Hal Leuco wants FBI agent Walter Weed (Tom Berenger) dead, and he's got the connections to get the job done. When Hal offers a sizable bounty for the head of Agent Weed, the killers start to come out of the woodwork. Of course, the Tremor family is always game for a challenge, but with a lethal beauty (Martha Higareda), a maniacal driller killer (Vinnie Jones), and a stealth assassin (Tommy Flanagan) all gunning for the prize, too, it'll be a miracle if Agent Weed lives to see the next sunrise. Fortunately for Agent Weed, Agent Baker (Clayne Crawford) and his team of heavily armed operatives may have just enough firepower to beat this determined team of assassins at their own game.
Critic Reviews for Smokin' Aces 2: Assassin's Ball
Audience Reviews for Smokin' Aces 2: Assassin's Ball
½
Straight to DVD sequel is a pretty decent film with nothing ever remarkable that happens on-screen. The idea is good, but it lacks the fun and intensity of the first Smokin' Aces, which was not a perfect film, but managed to overcome its flaws with a good cast, effective dialogue and well developed characters. At times, there's still elements of sharp, witty overtones from the first that comes out over in this sequel. As far as I'm concerned, the film would have been much better if the film would have had a few rewrites and it would have been under a different title. As it is, Smokin' Aces didn't need a sequel and it's a low-budget affair that never does take off. The film is a decent on e at best and there are a few effective moments to please action buffs, but overall, this is a forgettable sequel to a good film. This one had potential of being something very good and if the script would never have been rushed, and it feels like it has, this one could have been just as much fun as the original. Decent, but ultimately forgettable in the long run, Smokin' Aces 2 is a film that relied on an interesting undeveloped concept. This is one worth seeing at least once just to kill an hour and a half of your time if you have nothing else better to do. Fans may be disappointed with this one, and with good reason. The material for a great follow-up is here, but it focuses more on the fact that it's a low-budget, straight to DVD film that the filmmakers seem to not give the chance of a good story to be told. Decent, and it could have been much better, but as far as Straight to DVD films are concerned, this is much better than most.
It's clearly low-budget and frequently low-minded, but there's certainly some fun to be found.
Roy Gutteridge
Super Reviewer
You want guns guns guns guns and lots of over the top characters with videogame like traits all brought together in one place to simply shoot the shite out of each other?? course you do. Doesn't pretend to be anything other than a complete and total shoot em up which may as well have top scores and '1ups' floating around. Cast is unknowns with the odd well known character actor in there which works well, you know everyones gonna die its just a case of in what order hehe. Anything with Vinnie Jones in you know straight away what type of character he will be playing and to expect both badassery with allot of tongue in cheek. Set completely in a bar for most of the action so nothing much visually to shout about, plenty of fancy slow motion shooting and killing with much gun porn going on, looks pretty glossy but we've seen it all before over and over. Total popcorn flick which won't let you down if you just want guns n crazy ass characters.
Phil Hubbs
Super Reviewer
Smokin' Aces 2: Assassin's Ball Quotes
There are no approved quotes yet for this movie.