Smother
(2007)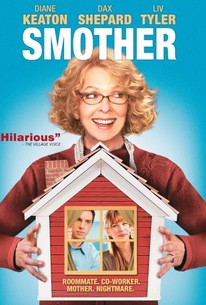 Movie Info
When an everyday thirtysomething is fired from his job, his unemployment woes are soon compounded as the ticking of his wife's maternal clock reaches a deafening pitch, and his overbearing mother announces plans to move in with the struggling couple. Dax Shepard, Liv Tyler, and Diane Keaton star in a film directed by Vince Di Meglio, co-scripted by Di Meglio and Tim Rasmussen, and produced by Rasmussen, Bill Johnson, and Jay Roach.
Critic Reviews for Smother
Audience Reviews for Smother
½
I don't understand all the bad reviews of this film. I was laughing out loud throughout. I thought that this movie had many, many chuckle moments, and I'm not all that easy to please when it comes to comedies. Dax Shepard just cracked me up. Diane Keaton was alot on the kooky side, but I still enjoyed her. I'm so glad that I watched it in spite of what I'd read about it.
Cynthia S.
Super Reviewer
½
CAST: Dax Shepard, Liv Tyler, Diane Keaton, Mike White, Ken Howard, Selma Stern, Jerry Lambert, Don Lake DIRECTED BY: Vince Di Meglio SUMMARY: After losing his job, therapist Noah Cooper (Dax Shepard) returns home to discover that his loud, pushy mother (Diane Keaton) has left her husband and plans to live indefinitely with Noah and his lovely wife (Liv Tyler) -- who desperately wants him to sire a child. Now, the put-upon therapist has to cope with his outrageously overbearing mom and fend off his wife ? all while trying to find gainful employment. MY THOUGHTS: "Not very funny, but interesting enough to watch. I felt like I have seen Diane Keaton play this role before and then remember that she kinda has, like in, 'Because I said So' and 'Mama's Boy'. So it wasn't that big of a stretch for her to play an overbearing mother who is quite annoying. I thought the karaoke scene was funny, but not much in this film was. It had its moments, very few, but still they were there."
♥˩ƳИИ ƜѲѲƉƧ♥
Super Reviewer
Leigh Ryan
Super Reviewer
Smother Quotes
There are no approved quotes yet for this movie.