Snabba cash (Easy Money)
(2012)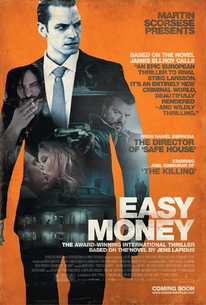 Snabba cash (Easy Money) Photos
Movie Info
Lower-class business student JW (Joel Kinnaman) falls in love with a sexy heiress while living a double life mingling with Stockholm's wealthy elite. To keep up the façade of his lifestyle, he's lured into a world of crime. Jorge is a petty fugitive on the run from both the police and Serbian mafia. He hopes that brokering a massive cocaine deal will allow him to escape for good. Mafia enforcer Mrado is on the hunt for Jorge, but his efforts are complicated when he's unexpectedly saddled with caring for his young daughter. As JW's journey ventures deeper into the dark world of organized crime, the fate of all three men becomes entangled and ends with a dramatic struggle for life and death. -- (C) Weinstein
Critic Reviews for Snabba cash (Easy Money)
Audience Reviews for Snabba cash (Easy Money)
Superbly exciting crime thriller, based on the best-selling novel with the same name, by Swedish author and attorney Jens Lapidus. It's an engrossing story, where we follow the lives of three men - all from different cultures, but whose illegal activities bring them together at various points throughout the film. Mainly, however, it concerns the fascinating double life of Johan "JW" Westlund; an economics student who lives a luxurious life in the social spheres of the upper class elite, and pays for it by doing crime on the side. Joel Kinnaman, who is best known outside the borders of Sweden for his role in The Killing, does an excellent job with the character, making him believable and incredibly interesting, as he gets sucked deeper and deeper into the criminal underworld of Stockholm and its suburbs. Honestly, I wasn't too impressed with Kinnaman when I saw him in The Darkest Hour and Safe House"(the latter of which is also directed by Swedish-Chilean film-maker Daniel Espinosa), but here he is in his right element and brings a lot of nuance and subtlety to his performance. Another thing I really loved about this movie, is that it doesn't just show the ugly side of our characters' exploits. They abuse, trade in drugs and engage in corrupt and shady affairs, yet the movie never forgets about their humanity. In example, some of the film's most riveting and heart-gripping moments comes when Mrado, a brutal Serbian torpedo played by Dragomir Mrsic, tries to balance his violent life with taking care of his young daughter. It added something to the story that felt very authentic and original. Technically, it's really well-made to boot. Theis Schmidt's outstanding editing, in unison with David Espinosa's firm and superlative directing, gave it a very professional touch, with a pacing that operates at the perfect speed. I have nothing to complain about there whatsoever. Not many outside Sweden have probably heard of this film, but if you enjoyed the The Girl with the Dragon Tattoo, or any of the other Stieg Larsson films, you should definitely not miss this. I thought this was even better in some ways, which should be saying something about just how qualitative it is. All in all, a surprisingly great neo noir piece, with powerful performances and a highly suspenseful storyline. I expected mediocracy, but was instead presented with a top notch action thriller, that kept me glued to my seat throughout.
½
Superb performances, an interesting mix of characters and believability are the strengths of this generically plotted but otherwise fascinating crime thriller, kinetically filmed and with a pulsing soundtrack.
Daniel Parsons
Super Reviewer
½
A new crime classic. A masterpiece. A raw, stylish, exciting and explosive crime-thriller. Director, Daniel Espinosa crafts a fine, skillful and mesmerizing blend of characters, action, suspense and plot. It ranks with the works of Martin Scorsese. It comes from comes from great material that rivals with Stieg Larson. A riveting and tremendously exciting thrill-ride. An adrenaline-charged and heart-pounding movie that just shines and is a complete knockout. It grabs you and dose not let go until the very earth-shattering conclusion. It's bold, gripping, surprisingly moving and breathtaking. An intensely compelling and very powerful film. It's more than sizzle, it's red-hot entertainment that's fast, furious and laced with double-crosses and consequences. An intriguing and very involving first-rate thriller. A trio of brilliant performances from their three electric needs. Joel Kinnaman is sensational, he shows he's a promising and compelling leading man with charm, subtly and a fierce rage that's carefully hidden and shown only in the right moments. Mattias Padin is excellent. Dragomir Mrsic is electrifying, showing to be fearful and surprising vulnerability.
Snabba cash (Easy Money) Quotes
| | |
| --- | --- |
| Jorge: | You look like you're from the rich part of town, but you live like a drug addict. |
| JW: | Then you should feel right at home. |
| | |
| --- | --- |
| Mrado: | Life can be hard. But you're a tough little cookie. Strong, like your dad. |
| | |
| --- | --- |
| Mrado: | Who's in charge of the checkroom. |