The Snake Pit
(1948)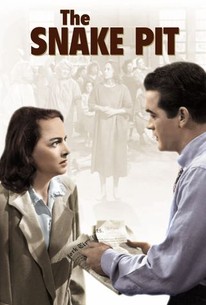 Movie Info
"A woman loses her mind and is confined to a mental institution." That's the usual TV-listing encapsulation of The Snake Pit -- and like most such encapsulations, it only scratches the film's surface. Olivia de Havilland stars as an outwardly normal young woman, married to loyal, kindly Mark Stevens. As de Havilland's behavior becomes more and more erratic, however, Stevens comes to the sad conclusion that she needs professional help. She is sent to an overcrowded state hospital for treatment -- a curious set-up, in that, while de Havilland is treated with compassion by soft-spoken psychiatrist Leo Genn, she is sorely abused by resentful matrons and profoundly disturbed patients. Throughout the film, she is threatened with being clapped into "the snake pit" -- an open room where the most severe cases are permitted to roam about and jabber incoherently -- if she doesn't realign her thinking. In retrospect, it seems that de Havilland's biggest "crime" is that she wants to do her own thinking, and that she isn't satisfied with merely being a loving wife. While this subtext may not have been intentional, it's worth noting that de Havilland escapes permanent confinement only when she agrees to march to everyone else's beat. Amazingly, Olivia de Havilland didn't win an Academy Award for her harrowing performance in The Snake Pit (the only Oscar won by the film was for sound recording). While some of the psychological verbiage in this adaptation of Mary Jane Ward's autobiographical novel seems antiquated and overly simplistic today, The Snake Pit was rightly hosannahed as a breakthrough film in 1948.
Critic Reviews for The Snake Pit
Audience Reviews for The Snake Pit
An underrated gem. It's all about the performance and de Havilland's is utterly brilliant!
Randy Tippy
Super Reviewer
½
Olivia de Haviland gives a brilliant performance as Virginia Stuart Cunningham, a young woman committed to a mental institution after a "nervous breakdown". This is one of the first flims to deal with mental illness on a serious adult level, and it is sometimes sad and sometimes harrowing to watch. Virginia spends several months in various wards of the hospital -- the higher the ward number, the worse off you are -- moving up and down in wards as she recovers and then relapses. She receives treatment such as hydrotherapy and shock treatments, which are treated much more gingerly that most other, more graphic, examples in other films. While the plot of this film is interesting, what held my attention were the other patients in minor roles and background. Various mental illnesses and symptoms are featured, including bipolar disorder, depression, schizophrenia and paranoia, delusions of grandeur, aural hallucinations and persecution. To know that there are people all over the world who suffer as these women did in this film is painful to imagine. The film is a slower version of One Flew Over the Cuckoo's Nest, without the black humor. And it does move slow at times, when the doctor is explaining in detail the possible explanations for Virginia's illness. The only thing that keeps it from being five stars is the slightly manipulative scene between Virginia and Hester, the distrustful mute girl Virginia has befriended, and a few times when de Havilland fell back into the posturing that so many actresses in the 40s adopted. Otherwise, director Anatole Litvak should be commended for this fine film.
Few performances have equaled the raw power of Olivia de Havilland's in The Snake Pit. In the film, de Havilland plays Virginia, a young woman who suffers a mental breakdown and is committed to psychiatric hospital. We follow her treatment, diagnosis, and suffering as she climbs out of and falls back into the snake pit (in ancient times, the film explains, an insane person was lowered into a pit of snakes, the rationale being any sane person would be driven insane by the process, thus the opposite would occur for the insane). De Havilland is so amazing it's easy to overlook the story (which is quite well-written) or the direction (which is also amazing). In spite of all this, the film only won one oscar, for best sound recording. In the history of classic film, this one can get lost in the shuffle, and that's a shame.
Devon Bott
Super Reviewer
The Snake Pit Quotes
There are no approved quotes yet for this movie.