Snakes on a Train
(2006)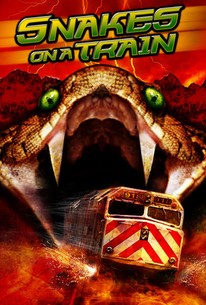 AUDIENCE SCORE
Critic Consensus: No consensus yet.
Movie Info
A cursed woman sends a train literally into the mouth of a giant snake in this Snakes on a Plane knock-off from Asylum Entertainment. After a couple flees an unsuccessful attempt to marry one of them off to royalty, a curse is laid upon the woman which makes her puke up snakes every few minutes -- a fate that can only be cured by a distant relative. Unfortunately the snakes keep on coming and soon a horde of these man-eating reptiles begin to terrorize a passenger train whose final destination is nowhere other than ludicrous land. The director, Peter Mervis, also helmed the similar - but much less preposterous - dreivative productions, Hillside Cannibals and The Da Vinci Treasure.
News & Interviews for Snakes on a Train
Critic Reviews for Snakes on a Train
Audience Reviews for Snakes on a Train
So many reasons to see Snakes on a Train. So many reasons it was so bad...The acting was bad, The script was bad, the effects were bad, the ending was bad. But the most dissapointing thing of all is that the reason you watched the film for was in fact bad. That is, the Snakes were bad.
Directors Cat
Super Reviewer
There is at least some nudity to look forward too...other than that...not so much.
Ken Stachnik
Super Reviewer
Nope, not a sequel to the much hyped film of a similar name, but this independent cheapo rip-off sure as hell took advantage of its publicity. It's quite a dull film really with a bit of gore now and then, but it didn't have the budget to pull off the film effectively. An admirable but average effort.
Snakes on a Train Quotes
There are no approved quotes yet for this movie.