Snatch
(2001)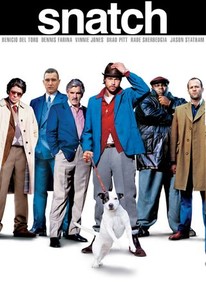 TOMATOMETER
AUDIENCE SCORE
Critic Consensus: Though perhaps a case of style over substance, Guy Ritchie's second crime caper is full of snappy dialogue, dark comedy, and interesting characters.
Movie Info
Guy Ritchie's sophomore follow-up to his 1998 sleeper hit Lock, Stock, and Two Smoking Barrels, Snatch revisits the previous film's territory of London's crime-ridden underbelly, and does so with the same brand of humor and stylish direction that made Ritchie's first effort a surprise success. With a labyrinthine plot that is ostensibly oriented around a missing diamond, Snatch introduces viewers to three groups of characters intent on retrieving the elusive stone, which has been stolen from an Antwerp jeweler. In the first group are friends and business partners Turkish (Jason Statham, who also supplies the film's voice-over narration) and Tommy (Stephen Graham), who join up with Mickey (Brad Pitt), an Irish gypsy and boxer. Turkish and Tommy make arrangements with Mickey to take a fall in a match engineered by lunatic gang leader Brick Top (Alan Ford). In another corner resides equally loony Russian gangster Boris the Blade (Rade Sherbedgia), who has asked Jewish gangster Franky Four Fingers (Benicio Del Toro) to place a bet on the match for him. Boris is also scheming to have Sol (Lennie James), the owner of a pawn shop, rob the place with a couple of dim associates. Meanwhile, Avi (Dennis Farina), freshly arrived in London from New York, hires Bullet Tooth Tony (Vinnie Jones) to find Franky when he goes missing; it seems that it was none other than Franky who was supposed to be transporting the purloined diamond to New York. ~ Rebecca Flint Marx, Rovi
News & Interviews for Snatch
Critic Reviews for Snatch
Audience Reviews for Snatch
'Lock Stock and Two Smoking Barrels 2' could be its real name, Ritchie is back with the second in his British gangster trilogy ('Revolver' being number three) and this time due to the success of his first venture he clearly has more money to play with so he brings in some big name stars. The film is almost the same kind of thing to 'Lock Stock' being another gritty, dirty, slimy cockney collaboration of tales all revolving around yet more oddball wheeler dealers, thugs and gangsters as they all try to get ahold of money, jewels and each other in (again) a Tarantino type way with more gallows humour. The cast again is fantastic and includes yet more British actors that were somehow left out of the first film, over Ritchie's films he's used every known British character actor or soap star we have. The inclusion of some big Hollywood stars actually, for me, brings the film down slightly, they don't seem realistic and can't fit into this exclusively British world thus the film loses its sense of realism, a big Hollywood star doesn't always equal a good direction to go. To be frank the film does really have a R. Rodriguez feel to it eg. 'Mariachi' was made, it did well so RR remade it bigger and better. 'Snatch' does seem to fall into that catergory to a degree, it does feel almost like a reboot or upgrade of 'Lock Stock' as some of the cast that do show up in both films are playing the same kind of role, mainly Vinnie Jones who can't really play anything else. The film has the exact same grotty feel to it with your typical South/East London looking pubs, alleys and streets, more cockney dialect to confuse any non-Londoner, more hints at vicious violence but without actually showing that much, some glorious fights and more swearing than you can possibly imagine. The only thing I don't like about the film is all the silly names everyone has, I just get the feeling Ritchie was trying too hard to make it in the same vain as American New York gangsters, your typical hood with his catchy nickname like Billy the rat or pool table Pauly for example, it just seemed a bit daft. Basically this is another triumph for Ritchie despite making the same film all over again. Alan Fords portrayal of Brick Top is also probably the most chilling baddie I've seen in years. Oi!!! geeeza!!
Phil Hubbs
Super Reviewer
½
An intriguing, interwoven plot. Much funnier than I expected. Pitt's accent was weak, but not to the point of distraction. Sometimes hard to discern the dialog due to heavy accents from the rest the cast. Still, thoroughly enjoyable caper.
Christian C
Super Reviewer
½
Guy Ritchie delightfully resurrects and updates Damon Runyon's popular gangland mugs, transports 'em to Britain and has 'em go for a load of loot symbolized by a large hunk of shiny charcoal floating about. Good fun.
Kevin M. Williams
Super Reviewer
Snatch Quotes
| | |
| --- | --- |
| Turkish: | So, what do you think? Do you know anyone who might be interested? |
| | |
| --- | --- |
| Turkish: | For every action, there is a reaction, and a Piker reaction is quite a fuckin' thing. |
| | |
| --- | --- |
| Bullet Tooth Tony: | You should never underestimate the predictability of stupidity. |
| | |
| --- | --- |
| Turkish: | [police are watching Tommy chase the dog] He loves that dog. Always playing silly games. |
| Turkish: | He loves that dog. Always playing silly games. |