Snatched
(2017)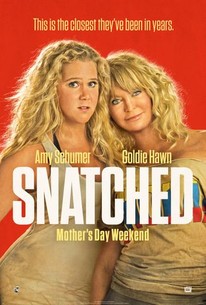 TOMATOMETER
AUDIENCE SCORE
Critic Consensus: Snatched has a pair of terrifically talented stars, but their presence isn't enough to compensate for this rote comedy's threadbare plot and scattershot laughs.
Movie Info
After her boyfriend dumps her on the eve of their exotic vacation, impetuous dreamer Emily Middleton (Amy Schumer) persuades her ultra-cautious mother, Linda (Goldie Hawn) to travel with her to paradise. Polar opposites, Emily and Linda realize that working through their differences as mother and daughter - in unpredictable, hilarious fashion - is the only way to escape the wildly outrageous jungle adventure they have fallen into. Amy Schumer and Goldie Hawn star in the new comedy adventure SNATCHED, which also features Ike Barinholtz ("Neighbors"), Wanda Sykes ("Bad Moms") and Joan Cusack ("Working Girl").
News & Interviews for Snatched
Critic Reviews for Snatched
Audience Reviews for Snatched
Honestly the first bit was funny and my low expectations were raised. Then the kidnapping happens and it descends into boring adventure crap. I didn't especially like Amy Schumer in it either. She really doesn't have a lot going for her as an actress and she comes across as quite trashy rather than relatable. I think Kate Hudson should have been cast, that would have been funnier and she's a better actress too. Not that I even think she could have raised the content too far. It would have been a flop no matter who was in it.
Nicki Marie
Super Reviewer
From dramas, to biopics, to fantasy films, most genres have their share of duds, but no genre is more divisive than comedy. Every time a comedy hits the big screen, I find myself worried about it trying too hard to make its audience laugh, ending up falling flat on its face as a final product. That worry was very harshly proven during my viewing of Snatched. Have you seen a comedy that takes a dark turn, becoming more of a thriller than a comedy? Yes? Then you've already seen Snatched as well, because there is nothing original about this movie whatsoever. It doesn't even take the time to come up with clever jokes to at least isolate itself from the rest of the genre. Here is why Snatched is a film you should ignore when looking for something to rent in the future. I have to admit that I found myself intrigued by the premise when this film started. The first act of the film was basically following Emily (Amy Schumer) after a break-up, while she still wants to go on the vacation they were supposed to take. Choosing to take her mother alone, they venture out to meet their eventual fates. Quite honestly, there are only a few chuckles throughout this entire film, and it's definitely not worth your time, but the first act of this movie showed promise, based on the fact that Amy and Goldie had a bit of enjoyable chemistry on-screen together. This was surprising to me and it became the only reason to hope for the film to improve by the end, but the eventual turn came in act two and completely derailed the film as a whole. Without giving away too much (even though this aspect is very prominently in the trailers), the second and third acts of this film focus on the fact that these two women have been kidnapped. Not only is this aspects completely abrupt, changing the tone of the film immediately, but most of the attempts at comedy are thrown out the window as well, which both benefitted and hurt the film simultaneously. The comedy didn't work up to that point, but that was the focus in the first act, so when it's abandoned it feels like a completely different film altogether. I known I shouldn't be complaining about specific aspects of a film that fails in general, but when a comedy isn't funny, why should I bother watching it? From trying to add secondary characters throughout the entire duration, leaving some of the core focusses in the dust in favour of comedy, Snatched makes too many mistakes in this area. Look, all a comedy has to do is make you laugh, period. If this movie was supposed to be a road trip drama/thriller it would've made for a slightly better movie, due to the fact that the attempts at comedy would've been a breath of fresh air, but since that's the main job this film has to accomplish, it's pretty bad. After watching this movie, I felt as though I had watched an extended trailer for a movie that I hope would be good. This film really is just a series of events that lead exactly where you expect they would. In the end, I can't get myself to recommend this film, even to a mother and daughter to reminisce one night. That seems to be the purpose of the movie, but unless they've been kidnapped together before, there isn't really anything to make someone bond over here. The comedy is completely absent for the majority of this movie, the direction seems to be uninspired, which is shocking, due to the fact that this was directed by Jonathan Levine, and the change in tone just doesn't work. I didn't hate watching this film or anything, but it's a poor film all around. If you can ignore the fact that it's a comedy, you may find a few bonding moments to enjoy throughout the first act and be slightly touched by the finale of the movie, but aside from that, this is a mess of a film from start to finish. Snatched receives no recommendations from me, but I've seen much worse as well, so take that how you will.
I like the leads. Quite literally, it was for them to make me not like them, and they couldn't do it. And beyond the leads were the supporting cast, and I liked them as well, Sykes, Cusack, Barinholtz et al. Funny? Eh. But a vacation wherein I got kidnapped and had a better time than I had planned? Yes.
Kevin M. Williams
Super Reviewer
Snatched Quotes
There are no approved quotes yet for this movie.