Sneakers
(1992)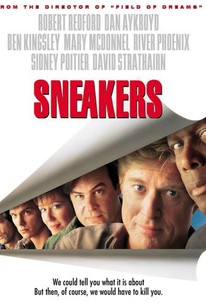 Movie Info
A group of maverick computer and espionage experts become involved in a government scheme to steal a piece of advanced code-breaking technology in this lighthearted spy drama. When the device's creator turns up murdered, they become the chief suspects and must discover the truth to clear their name.
News & Interviews for Sneakers
Critic Reviews for Sneakers
Audience Reviews for Sneakers
½
It is extraordinarily corny, and the screenwriting is quite mediocre, yet the film does engage with an interesting, complex plot and thrilling sequences.
Matthew Samuel Mirliani
Super Reviewer
Behind the unlikely story of the possibilities of a codebreaking device that works sorta like a universal remote is simply a charisma piece that exists so we can pal around with the stars for a moment. A nice evening with friends.
Kevin M. Williams
Super Reviewer
A team of hackers must steal a mysterious black box. At the time, before the Internet became as ubiquitous as it is, this must have seemed cutting edge and revolutionary. Today, it doesn't play as well and must rely on the strength of its cast, which, on first glance, promises to be quite good. But midway through the film, I got the feeling that these were just actors having fun being actors. What results is a fairly basic thriller/comedy, and while it's entertaining, in the words of one critic, "There's precious little that will stay with you." Overall, Sneakers is a decent way to waste two hours, but don't go looking for anything more than light-hearted entertainment.
Jim Hunter
Super Reviewer