Sniper 2
(2003)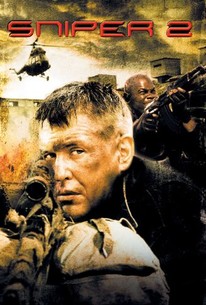 AUDIENCE SCORE
Critic Consensus: No consensus yet.
Movie Info
Sergeant Thomas Beckett (Tom Berenger) returns to tackle his most dangerous mission yet in this sequel to the action hit Sniper. Informed that a renegade general has been carrying out silent series ethnic cleansing missions deep in the Balkans, Sergeant Beckett and death row inmate B.J. Cole (Bokeem Woodbine) are sent on a suicide mission to take the general out at all costs. When Beckett discovers that the mission is merely a ploy by the government to set into motion an even bigger mission, his vengeance ignites an explosion of violence that threatens to burn even those at the very top of the food chain.
Critic Reviews for Sniper 2
All Critics (3) | Fresh (1) | Rotten (2) | DVD (2)
Sorely lacks the character moments of the first Sniper, but not bad by direct-to-DVD standards.
September 27, 2005 | Rating: 3/5
A low-rent shoot-'em-up that may actually be worthy of a 3-dollar rental!
offers very little in terms of plot, even grant action - no better really than your typical direct to video generic actioner
January 23, 2003
Audience Reviews for Sniper 2
Sequel to the Tom Berenger low budget action film Sniper basically takes the same idea and recycles it into a new plot. The film lacks anything that really stands out, therefore it just becomes a tiresome affair, one that continues the tradition of cashing in on its more successful predecessor by delivering something familiar, and in doing so, it ends up being a mediocre to decent affair, one that could have been good, but never becomes anything memorable due to lacking performances, poor story, and forgettable thrills. This film could have been exciting and worth seeing if only the filmmakers would have applied themselves a bit more, instead of just relying on old, formulaic ideas. I can understand that the idea is a sniper behind enemy lines, and it's a terrific idea, but there could have been so many ways to pull off a sequel. The result here is more of the same, but it just feels watered down. Though there are exciting action sequences, there is also the fact it just tries too hard at outdoing the original while threading the same ground. Sniper is a film that didn't necessitate a sequel. Diehard fans of the first might enjoy this, but for viewers of action films wanting a bit more out of the film, this sequel won't satisfy. S a whole, Sniper lingers the fine line of mediocre to decent, but it's a film that overall disappoints, and shows that the original didn't need a sequel. Sniper should have been a standalone film, as the ideas in this follow-up are never really that great, in fact it's a clichéd plot that is far too predictable at times.
Tom Berenger is superb as the tough, aging Marine ex-sniper Sergeant Thomas Beckett who is lured out of retirement to assassinate a Serbian general believed to be committed atrocities against the Muslim population. He's teamed up with a death row inmate and dropped in enemy territory. The mission goes well, Beckett kills his mark but then things take a terrible twist. The rest of the film is a rather exciting adventure where things are not what they seem to be.
I'm normally a pretty big fan of military action flicks, but this film just wasn't that interesting. Berenger is good as always, and Bokeem Woodbine is good as his spotter, but aside from that, I can't say anything else good about this film. It really just seems like a watered-down version of Behind Enemy Lines with a little bit of Enemy at the Gates thrown in for the hell of it. See the first Sniper, but avoid this film.
Stephen Skudlarek
Super Reviewer
Sniper 2 Quotes
| | |
| --- | --- |
| Sgt. Thomas Beckett: | Let's move out into town. |
| B.J. Cole: | That town's gotta be hot! |
| Sgt. Thomas Beckett: | [Beckett turns around, looks at Cole, briefly looks at his watch, and looks back up at Cole] Now you look here, we have 30 minutes to our rendezvous, so either you go with me or without me. |