Snow Angels
(2007)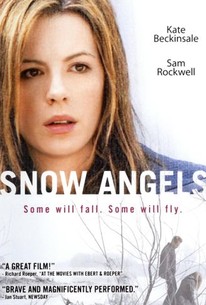 TOMATOMETER
AUDIENCE SCORE
Critic Consensus: With fine acting and considerable emotional depth, Snow Angels aptly captures the highs, and especially the lows of human relationships.
Movie Info
Director/screenwriter David Gordon Green adapts Stewart O'Nan's popular novel to the screen in this feature, which tells the parallel tales of a teenager named Arthur (Michael Angarano) and his onetime babysitter Annie (Kate Beckinsale) -- whose turbulent relationship with her estranged husband, Glenn (Sam Rockwell), leads the small-town waitress down a troubled path. Arthur is a high-school student from a dysfunctional family, and does everything in his power to avoid hanging around the house while mom and dad quarrel. When he's not practicing his trombone and performing with the high-school marching band, Arthur can usually be found bussing tables at the local Chinese restaurant and flirting with older waitress Annie. Annie used to be Arthur's babysitter, and is currently struggling to separate from her former high-school sweetheart, Glenn. But being a single mother isn't easy, especially since the troubled Glenn wants nothing more than to clean up his act and reunite his family. Back at school, Arthur and pretty classmate Lila (Olivia Thirlby) have been bonding over their mutual love for all things geeky. Though the casual friendship shows promise of evolving into something more when Lila expresses her true feelings for Arthur, he can't help but becoming distracted by his chaotic family life: his father is moving out of the family home, and his mother is doing everything in her power to maintain some semblance of normalcy. Realizing that happiness is fleeting as his family becomes shattered and Annie experiences a series of distressing encounters with Glenn, Arthur gradually begins to fall for Lisa despite his growing cynicism concerning long-term relationships. Later, on a cold winter morning, Glenn and Annie's past catches up with them in a blinding flash, and the lives of everyone they know are suddenly and irrevocably changed.
News & Interviews for Snow Angels
Critic Reviews for Snow Angels
Audience Reviews for Snow Angels
Stories about teenage love and a marriage that has all but disintegrated are interconnected in this drama. Strong performances by Kate Beckinsale and Sam Rockwell highlight this indie drama, but the film's weakness is its inability to either reach the Altman Standard for interconnecting stories or link the stories with a common theme. The best that I can manage for a common theme is weak: I think the film suggests that relationships inevitably decay despite the grand optimism with which we enter them, a claim evidenced by the parallels between Annie and Glenn's marriage and their younger counterparts. But I feel like I'm doing more work than the film is in order to tease some semblance of sense. Overall, this effort represents the dangers of trying to do too much and fit a whole novel into a medium that can't carry all the weight.
Jim Hunter
Super Reviewer
½
An overwrought tragedy, that doesn't provide much of a purpose. A good watch for Beckinsale and Rockwell fans, maybe.
"It's easy for...for us to block out the things that upset us. That's what I do. That's what most people do. But it's important that you feel through this." Hmmm. Ah...well. Where to begin with this one? I had high hopes for Snow Angels. I'm a fan of Sam Rockwell, Olivia Thirlby, and Kate Beckinsale, and was looking forward to seeing them all in an indie drama that seemed promising from all the reviews I've read. Needless to say, my expectations were not met. Snow Angels had an odd way of becoming less interesting and more muddled as it went along. It's like the writer became less certain of what he wanted to do and the story's message as the movie progressed. The beginning was promising, but by the the time the film meandered to its close, I was thoroughly confused about what the point was of all the interconnected characters and their actions. I quite enjoy "different" movies, as a rule, but Snow Angels did little for me. None of the performances were noteworthy enough to overcome a story that seemed to lack a central theme after it reaches an emotional highpoint near the middle of the movie. This one left me scratching my head, and not in a good way.
Snow Angels Quotes
There are no approved quotes yet for this movie.