Snow Falling on Cedars
(1999)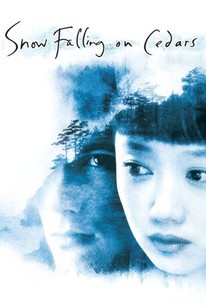 TOMATOMETER
AUDIENCE SCORE
Critic Consensus: Though Snow Falling on Cedars is beautiful to look at, critics say the story becomes dull and tedious to sit through.
Snow Falling on Cedars Photos
Movie Info
On a wintry Pacific Northwest island community in 1950, a quiet fisherman stands trial for murder. It looks like a straightforward case of cold-blooded homicide. But as the trial unfolds, the simple story of the man's death unravels into a deeply haunting mystery and an extraordinary tale about the persistence of hate and the power of love.
Critic Reviews for Snow Falling on Cedars
Audience Reviews for Snow Falling on Cedars
Beautiful performances, cinematography, editing, and score. BUT I must say watching this film again with a total paranoid cynic who doesn't think films should get wrapped up in the awesomeness of their own beauty has harshed my mellow a bit. The montages and flashback/forward editing ARE slightly self-indulgent and they take time away from the most iconic (3 second) shot of the movie - that of the Japanese internment camp prisoners walking on the docks under a blissfully ignorant American flag. If you're gonna make a statement, damn well make it right!
Alice Shen
Super Reviewer
This is the first movie I've ever seen that addressed the issue of the Japanese internment during WWII (aside from the fleeting reference in Midway) -- It shows how Childhood friendship pays off in adulthood -- I loved it!
Tom Ericksen
Super Reviewer
½
When an american-japanese fisherman is accused of murdering an childhood friend in the shadow of WWII, Ethan Hawke finds himself trapped in a crisis of conscience when he comes across possible evidence of his innocence. This is a beautifully crafted, very literary period drama in which the courtroom scenes are intercut with flashbacks from the lives of the various protagonists to produce a rich tapestry of motives, prejudices and conflicts of interest that affect their actions. It's beautifully shot in gorgeous snow-laden countryside, with a sensitive and pivotal performance by Youki Kudoh, while Max Von Sydow dominates the courtroom scenes in his inimitable style. It reminded me a little of a chilly English Patient. Except it's good.
Snow Falling on Cedars Quotes
| | |
| --- | --- |
| Nels Gudmundsson: | Accident rules every corner of the universe . . . except maybe the chambers of the human heart. |
| Nels Gudmundsson: | Accident rules every corner of the universe... except perhaps the chambers of the human heart. |